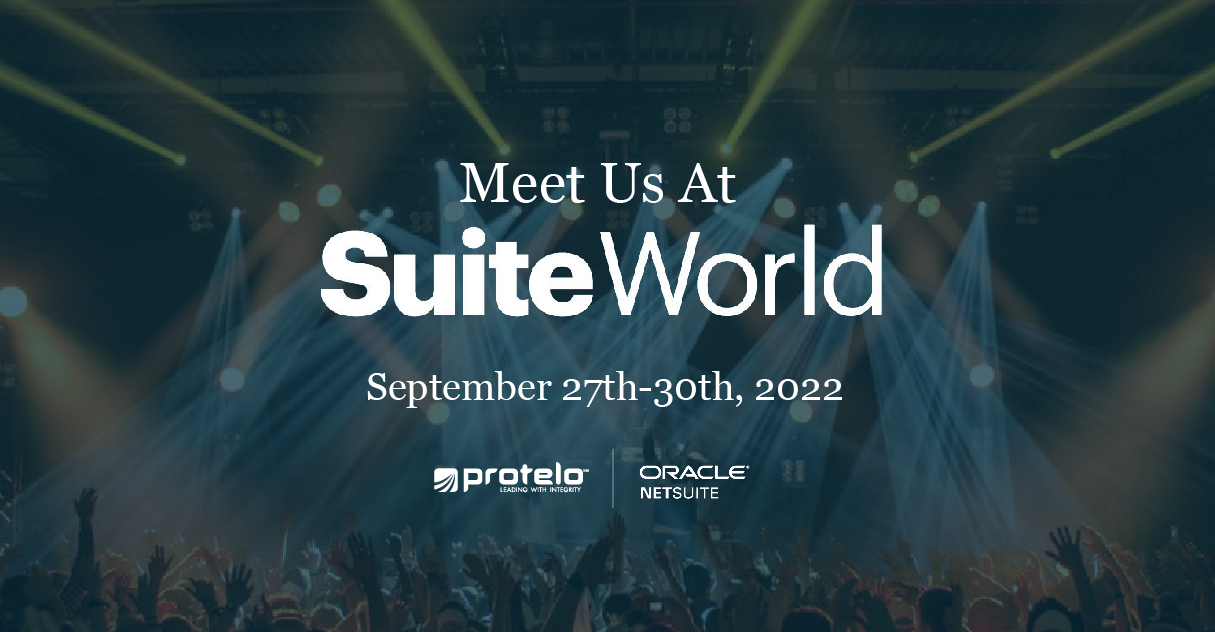 Meet Us At SuiteWorld 2022
SuiteWorld 2022: The Industry's #1 Cloud ERP Event Of The Year!

SuiteWorld 2022 | CAESARS FORUM | September 27th – 30th, 2022, Las Vegas
SuiteWorld is Oracle NetSuite's largest annual conference designed specifically for NetSuite customers, partners, prospects, and developers. SuiteWorld attendees get the opportunity to network face-to-face with thousands of IT professionals, join in on their pick of SuiteWorld's 100+ workshops & breakout sessions, learn about the latest tools to improve their bottom line, and truly tap into the power of the NetSuite ecosystem.
We're so excited to be attending SuiteWorld's 11th annual conference! Will we see you there?
Why should you attend SuiteWorld? Over the course of a week, you'll develop your skills through hundreds of exciting and informative breakout sessions, network with other NetSuite partners and users, and explore the SuiteWorld Expo- all while engaging with the newest concepts and offerings from our developer partners, solution partners, and system integrators. SuiteWorld is a week packed with opportunities.
How SuiteWorld Provides Value To Your Role
| | |
| --- | --- |
| Developer | Software developers, DevOps and technical users who build, manage and test applications and customizations that extend the functionality of the suite. |
| Finance | For those who manage and/or support the finance and accounting functions of an organization (CFOs, CPAs, accountants, controllers and business analysts). |
| NetSuite Administrator | For the administrator in a company whose day-to-day duties involve configuring and maintaining their NetSuite account. |
| Operations | From sourcing and production to fulfillment and shipping, these sessions will help teams efficiently manage operational processes. |
| Professional Services Automation | For consultants, project managers, SuiteProjects and OpenAir users, these sessions focus on simplifying project management to enhance service delivery and drive project profitability. |
| Sales / Commerce | Learn best practices to help drive sales and improve customer relationships. |
We simply cannot wait to attend this week-long event packed full of training, powerful keynotes, and the latest NetSuite features.
"The team at Protelo has been SuiteWorld participants for several years. Each year we look forward to seeing our customers at the conference, expanding our knowledge and making new connections," said Sari Oberto, Senior Account Manager. "We can't wait to see what SuiteWorld 2022 has to offer."
Who is headed to SuiteWorld?
| | | |
| --- | --- | --- |
| Tom Victor | Chief Operating Officer | Aimee Aguilar |Chief Financial Officer | Karah Finan | Director of Business Development |
| | | |
| --- | --- | --- |
| Sari Oberto | Senior Account Manager | Tom Armbruster | Senior Solutions Architect | Travis Perkins | Senior Business Consultant |
Protelo is an award-winning, full-service NetSuite partner and reseller that can help you to implement, service, and support NetSuite today. We are experts in all areas of NetSuite including ERP, CRM, and Suite Commerce Advanced.
With the exciting advancements in NetSuite this year, you may be realizing you could use additional support. Whether you are looking for customizations, optimization, industry expertise, or just simple answers to your questions, Protelo can help. Let's meet up at SuiteWorld and talk all things NetSuite! Can't wait until September? Check out Protelo's recap of our 2021 SuiteWorld experience!
If you would like to learn more about our company and see what we are all about, we'd love the chance to talk at SuiteWorld. Stop by to get to know our team, learn why we're different than other NetSuite partners, and discover the ways in which Protelo will support your growth and goals while working with us.
We are actively growing and hiring NetSuite professionals.
To put it simply, our employees are our greatest asset. Protelo is looking for talented individuals to join our fast-paced, steadily growing, established NetSuite consulting team. Quality is at the foundation of everything we do, and it shines through our seasoned employees, close customer relationships, daily interactions, and flexible work environment.
Check out our current job openings and learn why Protelo is a great place to work.
Let's connect at the Event! Join Protelo at SuiteWorld 22!