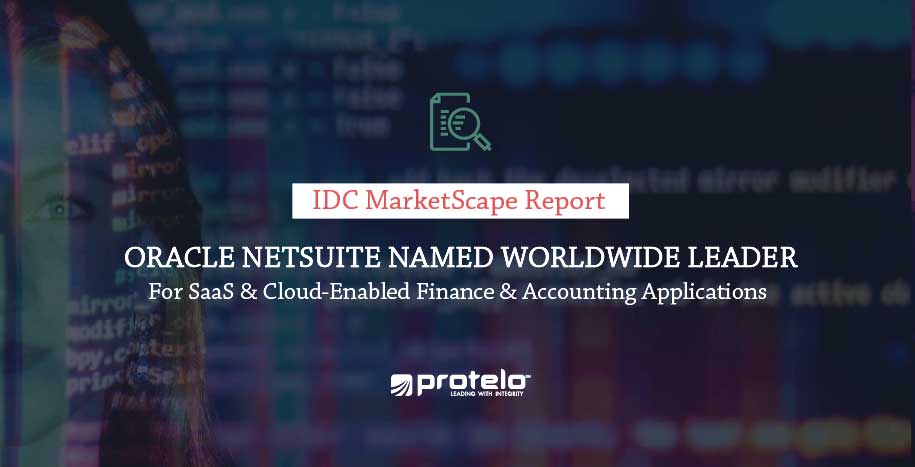 IDC MarketScape names NetSuite a worldwide leader
Every year, midmarket financial application vendors strive to enhance visibility and transparency to enable better business decisions.
As a result, businesses are becoming more agile and competitive, and decision-makers are leading with strategic oversight, planning, and forecasting. With everchanging business models, financial applications are now required to have the ability to scale, support deployment models, and shift with everchanging regulations.
Companies of every size, vertical and industry are fundamentally altering the way they do business to keep up with changing demands and are requiring an advanced financial application to push them forward. But how do you know which software application is best for you with so much competitive information available online?
In this new report, Analyst firm IDC MarketScape evaluates the 8 major vendors—Acumatica, Deltek, FinancialForce, Microsoft, Sage, SAP, Xledger, and NetSuite—to provide software advice and direction for business leaders. IDC vendor scores represent heavily researched data from user interviews with market leaders, buyer surveys, and end-user experience to provide an accurate and consistent assessment of each vendors capabilities and strategies.
Download the report to learn IDC MarketScape's guidance for midmarket businesses looking for a financial application vendor.
Download The 2020 IDC MarketScape Report
Digital Transformation's Role in the Modern Business
If your company suffers due to a lack of real-time visibility or hours wasted on manual processes, you should consider a change. Inadequate business management tools can hold your organization back. More and more companies are leveraging true cloud technology because of the ability to access unified, real-time information across the enterprise.
The demand for cloud business software is heavily focused on key areas of need for executives:
• Enhanced financial data visibility and organization.
• Updated applications and real-time data.
• Capabilities for global expansion and growth.
• Quick time-to-market and tangible return-on-investment.
THE RESULTS: After extensive IDC Marketplace research, NetSuite has been awarded as the top vendor in 2020 for modern cloud-enabled solutions for businesses worldwide. IDC notes that NetSuite is the optimal choice for midmarket enterprises that seek to simplify complex operations. IDC also highlights NetSuite's global capabilities and the financial suite of solutions as strengths of the solution.
NetSuite Stregnths:
IDC agrees that NetSuite can dramatically transform a business by automating manual processes, making global expansion possible and consolidating enterprise systems into one source.
• SuiteTax: NetSuite's SuiteTax module provides improved tax ability and functionality for global end users in over 200 countries—a native tax engine for direct and indirect tax covering VAT, GST, sales and use tax. According to IDC, "Oracle NetSuite's SuiteTax module is one of the most comprehensive among the large financial application providers."
• SuiteSuccess Implementation Approach: NetSuite SuiteSuccess methodology is a packaged software with best practices tailored for your industry and the ability to have customers live in 90 days.
• Single Saas Platform: With NetSuite, every customer is on the same version of the product and a single source for customer data.
Reliance on instincts is often not enough to push a business out of a growth plateau.
It's time to deploy new business software quickly and cost-effectively, so it can grow with you as your business scales! The right Enterprise Resource Planning system can help your team make better decisions, increase automation and free up time for associates to work on strategic initiatives. Download the report excerpt to learn the IDC MarketScape's guidance for midmarket businesses looking for a financial application vendor.
Are you a midmarket business evaluating your software for your business? See why NetSuite is the #1 Cloud ERP Get a Free Product Tour or request customized NetSuite pricing for your business today
Our Expert NetSuite Consulting Team

Protelo is a 5-Star NetSuite reseller, and a fully staffed software consulting firm. We'd be happy to help you implement NetSuite for your desired go-live date. With Protelo, you have direct-to-expert access without call centers or chat lines to go through to access our NetSuite consultants. Contact us to learn if your company may be a good fit for NetSuite! We are here to make your business even better.