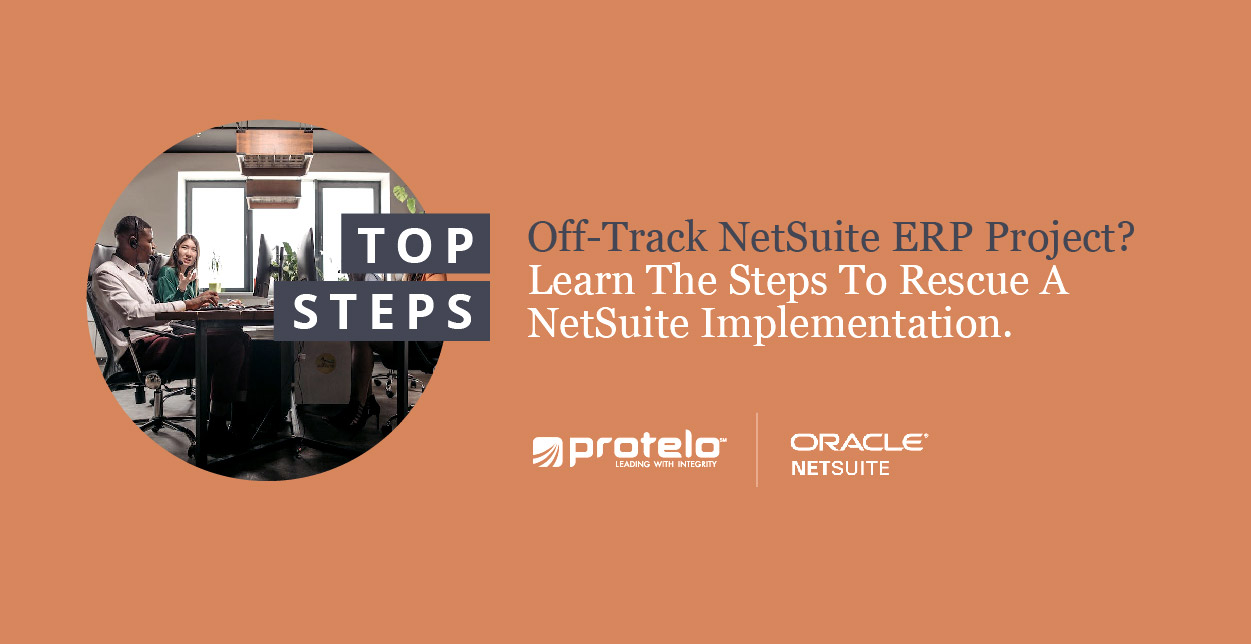 Off-track ERP project? Steps to rescue a NetSuite implementation.
If you're here, your NetSuite ERP implementation or product adoption may not have gone as planned. There are many reasons for a NetSuite implementation going south.
The most common factors we see are:
The project is over budget or over a timeframe
User acceptance is low, or users are not trained properly
Go-live was pushed prematurely or without proper processes in place
Best practices for configuration and set-up were not followed
The wrong package or modules were selected in the sales cycle
The project team in-house, or hired, is not implementing properly
Get Implementation Rescue Quote
Find The Right Team
With the popularity of NetSuite increasing, more NetSuite job shops in the United States and overseas, as well as NetSuite direct, are taking on a large number of NetSuite implementations. Some of these consultants may be operating with knowledge of basic code, but without the proper business acumen or understanding of best practices for NetSuite and general business processes. Whether the NetSuite implementation is done in-house, by a partner, or a combination of both—an understanding of your business requirements as it relates to the NetSuite platform is key.
When working with a partner, it's imperative to work with seasoned, senior associates from the pre-sales cycle through the go-live. A "green" salesperson, or a salesperson that puts adding extra costs above what's best for the business, can cause issues for a NetSuite implementation from the start. Signing onto the wrong package, having too many modules or incorrect modules and poorly planned implementation timeframe are all common mistakes that can cost a business time and money in the long-run. Be wary of claims to implement a complex ERP platform in just a few weeks, it could result in a failed go-live.

Get the buy-in internally
When taking the implementation fully or partially in-house, a strong project manager is critical to a successful NetSuite implementation. Before you start any ERP implementation, you should have a designated project leader. Depending on the size of your company, a NetSuite implementation could become a full-time job for someone. You'll want to choose a team leader with superior project management abilities. The chosen person will need to know how to address issues quickly and help keep the project on schedule.
The project manager will also most likely be your first "power user." The power user at a company will ultimately be responsible for day-to-day admin of the system, and will be the one trained first to ultimately help the other users at the company get trained on the system.
Following Best Practices
A solid implementation strategy consists of planning and preparation, configuration and data migration, testing, and training for your go-live date, all following NetSuite best practices. Start by engaging in work sessions to evaluate internal operations and processes and talk through whether it makes sense to modify the processes to the base features in NetSuite or engage a partner to build customizations to the base system. The sooner the processes are laid out, the smoother the configuration, set-up, migration and ultimately go-live will be.

Has Your Go-Live Failed?
NetSuite is an investment in your business's future, if your product adoption has not gone as planned: we can help. Many partners and NetSuite direct simply lay the basic groundwork for NetSuite implementation. However, countless companies that Protelo services find they require additional support or confidence that their business is ready to launch or optimize NetSuite to their satisfaction and standards.
Whether your company wants to ensure best practices are followed or requires additional customizations ahead of go-live—we're here to assist.
Contact Protelo's NetSuite Experts