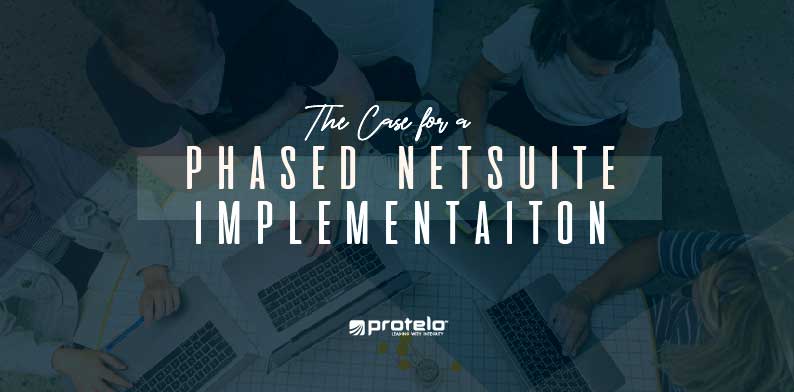 The Benefits of a Phased NetSuite Implementation for a Faster ROI
Purchasing NetSuite ERP is a choice that involves several departments, decision-makers, and levels of approvals.
As you continue to research, watch demos, meet with colleagues and decide on a solution for your organization to run its business on there are many levels of decisions that need to take place.
Equally as important, your business will need to choose how they are going to implement NetSuite. There are generally two broad schools of thought when going through an implementation: the rip-and-replace or "big bang" approach is where all features of a system are implemented at once. Then there is the phased implementation, where critical functions of the systems are implemented first and the additional functions are implemented in order of importance over a longer period.
The Case for a Phased Implementation
Easier Buy-in from Decision Makers
A phased NetSuite ERP implementation often reduces the upfront cost of the system, making the decision easier for decision-makers that are responsible for the company's direct profitability. In a phased implementation, only critical modules are paid for upfront. Paying for additional modules that will not be implemented until months into a NetSuite implementation can be an unnecessary use of funds, when the modules can always be added on at the same discount closer to the time they will be implemented with a phased approach.
Shorter Timeline
It is tempting to take a "whole hog" approach because the many integrations, add-on features, and advanced modules NetSuite has can take a business to levels of advanced operations that have never been achieved before. However, bringing in third-party applications, integration projects, and "nice to have" modules upfront can lengthen the time to go-live for NetSuite. Getting the critical portions of NetSuite like financials and/or inventory up and running in a few short months can paint a clearer picture of what additional integrations or modules will be needed if any at all.
Less Risk
The main advantage of a phased implementation methodology lies within the clearer vision of a less complex project. Potential issues can be identified at each phase milestone, without risking the health of many additional departments (like warehouse, sales, and eCommerce) by pushing the go-live date for their portion of the project. Each team will have dedicated resources and a dedicated roll-out: the entire company's system will not be in jeopardy with a major go-live and shut off previous systems.

Interested in exploring implementation approaches for NetSuite ERP?
Our expert consulting team has industry and technical knowledge and can help you choose the right path forward for your NetSuite ERP implementation.
We are experts in all areas of NetSuite including ERP, CRM, and SuiteCommerce Advanced. Protelo business consultants have deep experience—an average of 15+ years each—across industries and verticals such as wholesale distribution, manufacturing, services and more. We strive to become a trusted extension of your company and invested in your success.
We can help you to implement, service and support NetSuite today.

RELATED NETSUITE PAGES

Why work with a partner to buy NetSuite?
Businesses choose to work with a NetSuite partner to get personalized guidance, one-on-one support, financing plans, and direct to expert access any time you need it.
Our experience and passion for all things IT-related is unmatched. As an organization, we aim to provide strong, dependable leadership that customers can trust and believe in. Feel free to contact us, so we can figure out together how to better streamline your growing business operations. Want to purchase NetSuite and get started on the NetSuite platform? Need a customized quote for your business? Contact Protelo's experts today.
Get NetSuite Pricing Today
Learn more about worlds #1 cloud ERP solution
Follow us on Social for NetSuite tips, tricks and ERP fun:
YouTube, LinkedIn, Twitter, Pinterest, Instagram, and Facebook