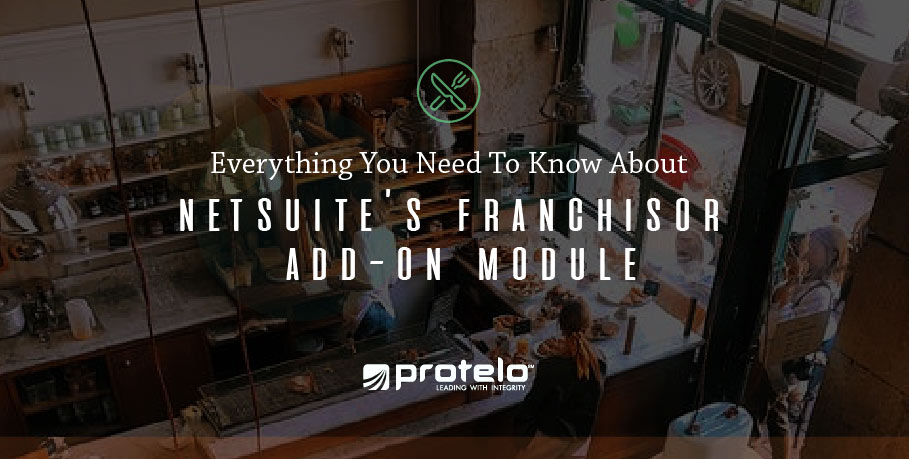 Everything You Need To Know About NetSuite's Franchisor Add-On Module
Enhancing The Future of Restaurant Franchising
Despite the uncertain economy swirling around us, the restaurant franchise business continues to rapidly grow. According to the U.S. Census, franchised fast-food restaurants make up 54% of all
fast-food restaurants in the U.S. and are expected to increase by 5% year after year
.
With an industry that continues to ride the economic boom in personal services, quick service, and full-service restaurant segments, the biggest challenge facing franchises today is the lack of conformity within the entire operation. Learn how franchisors are managing the complexities of their business, gaining visibility, managing costs and thriving with NetSuite for restaurant franchising.
Creating Uniformity Within The Franchise
Paul Mangiamele, the owner of Legendary Brands LLC, explains that the number one reason for failure is when franchisees don't follow the system and drift away from the core philosophy of the franchisor. To be profitable, it is imperative for the franchisors and the franchisees to maintain consistency, particularly in the business operation and accounting side. Spreadsheets and disconnected manual processes only make efficiency and visibility harder to make accurate decisions within each individual location.
NetSuite for Restaurants
Based on a National Restaurant Association study, 9 out of 10 restaurant owners have agreed that technology is essential to gain an advantage over competitors. Restaurants across all categories are investing in front- and back-of-the-house technologies and are finding that it is crucial to keep up with the emerging trends for scheduling, mobile payment, app ordering, and customer-facing functions for the entire operation to succeed. On top of that, mobile ordering and digital delivery sales are projected to increase by 22%.
Traditionally, restaurants have depended on a medley of disconnected technology solutions to operate their business to quickly fix and Band-Aid a technology pain point with QuickBooks and Dynamics. No matter the size of an establishment, restaurant operators need an integrated system like NetSuite for long-term success.
With the franchise sector increasing year over year, these issues will continue to increase. In order to grow and thrive, franchisors require an integrated business system that connects financial procedures, standards, and feedback tools. With all processes in a single unified system, franchisees can conform to company standards and franchisors can obtain enhanced visibility and support.
---
6 WAYS CLOUD ERP MAKES RESTAURANTS MORE EFFICIENT:
Gain visibility over high levels of inventory and cut costs
Operate and manage your workforce on the fly
Rapidly deliver information to multiple locations
Manage customer-centric processes for resolution and escalations
Gain a 360-degree view of the entire restaurant management system
Decrease the waste of highly perishable inventory
Learn more about NetSuite ERP
---
NetSuite Restaurant Franchisor Module Features:
Franchise Royalty Management: NetSuite provides a single unified platform to automatically record and calculate fees, efficiently manage the A/R process and seamlessly connect to project management for completed project billing.
CRM and Sales Force Automation: NetSuite's Franchisor Add-on provides the lead capture, lead opportunity data, calculated sales commissions, and forecast reporting and generates the key functions your business needs automatically. Franchisors now have the ability to increase their selling strategy with the information they need in real-time with custom reporting and search functions.
Marketing and Promotion Management: With NetSuite, Franchisees gain the visibility of their ROI to track the spend of their entire organization. Franchisors have the ability to launch promotions, LTOs, and other marketing campaigns from NetSuite to track all campaign data in one single location. The Franchisor Add-on offers a divided campaign dashboard with reports and key performance indicators to show campaign results and regional variations. NetSuite offers out-of-the-box functions that allow franchisees to quickly see ROI, and franchisors can monitor the cost and collection of marketing funds for easy reconciliation to franchisees.
Project Management: NetSuite's Franchisor Add-on allows franchisors to easily set up the important processes that franchisees require for everyday interactions and put them on autopilot. Franchisors now have the ability to focus on analyzing data, streamline processes, and increase the profitability for franchisees and the entire franchise. Employees can track time, guarantee adequate resources, and submit billable costs without double entry to the franchisee.
Supporting Franchisees to optimize sales: The complexities of operating a franchise increase with a lack of visibility, time-wasting manual data entry, and disorganized costs. Franchisors require a single integrated software system that seamlessly merges franchisees to uniform processes, procedures, feedback, and financial tools. Along with the functionality of NetSuite for Restaurants, NetSuite's Restaurant Franchisor Add-on Module allows franchisors to connect all operations into one central location with a subsidiary for each franchisee to manage and report sales, commissions and transactions.

Are you interested in learning more about NetSuite's Franchisor Add-on module?
Want to learn more about pricing? Schedule a free consultation today.
Protelo's award-winning NetSuite consultants have deep experience—an average of 15+ years each—across industries and verticals such as wholesale distribution, manufacturing, services and more. We are here to make your business better, save you time and money, and give you direct access to NetSuite experts.
Through tailored business software development, implementation, services and management, we help streamline business processes and the flow of critical information. We strive to become a trusted extension of your company and invested in your success. Make sure to check out Protelo's Ultimate NetSuite Add-on resource guide for additional enhancements to NetSuite's #1 suite.
Get A NetSuite Price Quote Have Questions? Contact Us Today
Follow us on Social for NetSuite tips, tricks and ERP fun:
YouTube, LinkedIn, Twitter, Pinterest, Instagram, and Facebook