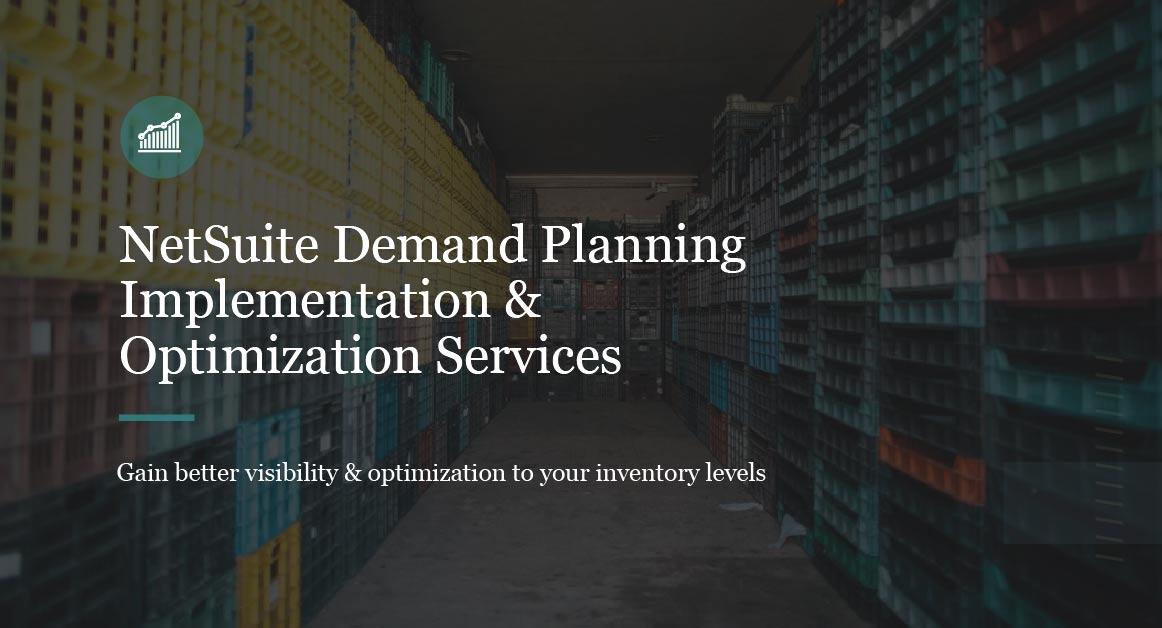 NetSuite Demand Planning Implementation & Optimization Services
Do your production planners and buyers spend significant time and effort on demand forecasting—only to still be inaccurate?
Can your organization benefit from automating work order and purchase order generation?
NetSuite was created to uphold the needs of product-based companies, offering many features and functions to assist in getting the right inventory to the right place, at the correct time. NetSuite Demand Planning features provide the ability to predict inventory based on historical demand, determine replenishment requirements, and create purchase and work orders according to a supply plan that will add stock as needed. This information can be crucial for items with demand that varies and fluctuates throughout the year.
Demand planning helps you to have the right amount of stock on hand to fill orders without having overstock sitting idle on warehouse shelves. Demand Planning uses demand plan and supply plan records to track anticipated supply and demand.
Our NetSuite experts at Protelo can help to customize and optimize your NetSuite system to assist in pinpointing when you need to reorder items, and in what quantities, to maintain optimal stock levels. In this blog we will highlight the benefits of NetSuite Demand planning for your business and the ways our team can bring even better visibility and optimization to your inventory levels.
Learn more about NetSuite Demand Planning
Demand Plans
What is a Demand Plan? A demand plan records the expected future demand for an item based on previous or projected demand. A demand plan can be created automatically using the Calculate Demand Plan page. This page initiates the process to assess previous demand for items and calculate the estimated upcoming demand.
NetSuite provides the ability to forecast demand for items using one of the following methods:
Determine a time frame for examining an item's historical sales data to analyze previous sales trends and forecast future sales with similar trends.
Use current demand such as opportunities, quotes, and existing sales orders to forecast future sales. This method is not based on a calculated forecast.
NetSuite uses this forecast data to project estimated demand across a designated time period in the future and suggests a plan for orders accordingly.
Supply Plans
What is a Supply Plan? Supply plans record the recommended schedule for purchasing or manufacturing an additional supply of an item. It lists recommended purchase orders and work orders to augment item supply, based on lead times and expected demand. A supply plan incorporates lead times, so you place orders in time to receive the items when the demand is increased.
Purchase orders generated from supply plans use the preferred vendor from the item record. Safety stock level settings are considered in supply calculations. For assembly item supply plans, all levels of a multi-tier assembly are considered. NetSuite plans work orders for all sub-components of the build, as well as purchasing of required raw materials. A supply plan can be generated from a demand plan using the Calculate Supply Plan page.
Using demand plans and supply plans helps you maintain an optimal level of inventory for items that have fluctuating demand.
Which Replenishment Method is better?
To reduce stock-outs, there are two options for replenishment method, Time phased and Reorder Point.
"Time Phased" is the replenishment method to utilize with demand planning. Time Phased is best for complex finished goods with subassemblies and raw materials.
"Reorder Point" is an older NetSuite replenishment method option that is not as effective as "Time Phased". "Reorder Point" has significantly higher out-of-stock rates than "Time Phased".
Our NetSuite team has helped many clients successfully move items from Reorder Point to Time Phased and select the right options to deliver optimal in-stock results. Establishing best practices within demand planning makes complex finished goods a lot less difficult to plan for. For example, we have set the Demand Source option to "Entered and Planned orders" for build to order complex finished goods, reducing out of stocks significantly.
Demand Planning Configuration Optimization
Are you having any of the below issues with your configurations?
No Purchase Order is suggested for the Component (Raw Material) of an Assembly Item.
Item records are not configured correctly to leverage NetSuite automated generation of work orders and purchase orders.
Demand forecasting is configured to look backwards at item demand history, when it should be configured to look forward at future demand with select or all items. This can happen when NetSuite goes live with misconfigured to forecast demand from past orders despite there being no order history.
Your buyer does not properly use the NetSuite "Order Items" page to review and adjust suggested purchase orders.
Your production planner does not properly use release work orders based on lead times.
Configuration is not setup for fast and easy suggestions by NetSuite for work orders and purchase orders.
Finished goods are not properly setup with "nested" bills of materials. An example of a "nested" bill of material is a subassembly that has three other subassemblies as part of its bill of materials. When these "nested" bills of materials are not setup properly, then purchase orders and work orders will have issues.
Reorder point replenishment method common issues:

a. Reorder multiple field is empty when a value is needed.

b. For inventory items, reorder point is same as safety stock.

c. For assembly items, build point is the same as safety stock.

d. Preferred stock level is empty or not populated with optimal value.

e. Auto-calculate checkbox not properly used.

Have Demand Planning Questions?
Are you looking for NetSuite Experts to assist in Demand Planning optimization or implementation services? Better Demand planning provides better ROI, visibility, and efficiency across the business. Our award-winning NetSuite consultants have the experience to help clients take full advantage of NetSuite demand planning by finding and solving problems with their current planning purchase orders and work orders. Demand planning should never be a guessing game.
Regardless of your industry or sector, our highly skilled NetSuite team understands your business challenges and the important solutions you need to succeed. Protelo's direct-to-expert access means that there are no call centers or chat lines to go through to access our NetSuite consultants.
Whether you need an expert that's just a call away—or a NetSuite team to help you reach the go-live finish line smoothly: it's a fully on-demand service. With end-user training available from Protelo, your team can get started with better demand planning right away.

RELATED NETSUITE PAGES