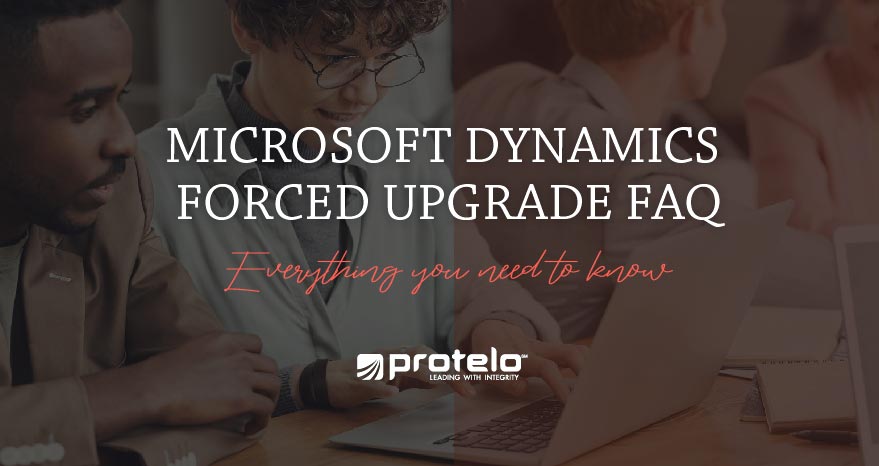 Microsoft Dynamics Forced Upgrade FAQ
What's the deal with Dynamics?
Microsoft Dynamics 365 and Microsoft CRM users that are using cloud and/or browser-based access to Dynamics must upgrade to Microsoft Dynamics365 / CRM or may face potential security and work-impacting issues.
If you did not self-schedule this update by last August, Microsoft will force an upgrade for anyone on Microsoft Dynamics Version 8.2 or earlier. Microsoft will no longer support any of their customers that did not complete the upgrade to the newest version.
What is the business impact?
The size, cost, and scope of upgrading your Microsoft Dynamics environment to the supported version depends on the complexity of the customizations in your instance. Microsoft does not require third-party add-ons to continue to support the add-on in the future, meaning third-party apps in your account may not be compatible.
Custom development that was applied to your Microsoft Dynamics instance should be checked for compatibility with the upgrade. Customizations can be tested a few weeks before the upgrade in a separate environment; it is a possibility that all or some customizations may have to be re-implemented in your environment to comply with the upgrade.
On-premise Microsoft 365 users are not currently up against a deadline for upgrade–but it is a possibility in the future. See why growing companies are considering a cloud environment.
What are your options?
Increasingly, organizations are moving their companies to true cloud ERP. "True Cloud" means the platform was built for the cloud and is hosted in a secure, centralized cloud data center. Microsoft Dynamics newly introduced a "cloud" option in the previous year. This option may not be a true cloud, but your organization joins a Virtual Private Network into a server hosted elsewhere. This could mean that many components of Microsoft Dynamics are not built for the agility of the cloud and major retrofitting may be necessary to keep your custom environment working correctly.

Should you switch ERPs?
Switching ERP systems requires time and effort but does not have to be a headache and does not have to disrupt business. With more than 28,000+ organizations running on NetSuite, NetSuite is 10 times larger than the next largest competitor in the true cloud ERP market. How is NetSuite different than Microsoft Dynamics? NetSuite was built for the cloud and on a single source of code, so when automatic upgrades occur twice a year, no customizations or add-on modules will be impacted. There will never be a need to pay for retrofitting or customizations to go through an upgrade, and you will always be supported throughout years on NetSuite—protecting your ERP investment.

RELATED NETSUITE PAGES
To learn more about how companies can achieve enhanced ROI and efficiency from switching to NetSuite from Microsoft Dynamics/Navision/NAV and similar products—read the point-by-point comparison here.
5-Star NetSuite Reseller & Implementation Partner
Protelo is a top NetSuite reseller, and we're passionate about making sure our clients get the best NetSuite implementation possible! From purchasing a NetSuite license, to fully customizing the platform for you, we can help your company pick and choose which features you need most.
Our award-winning NetSuite consulting team would be honored to help guide you through NetSuite's software every step of the way. Please feel free to contact us if you'd like to know more information about us as NetSuite implementation partner.