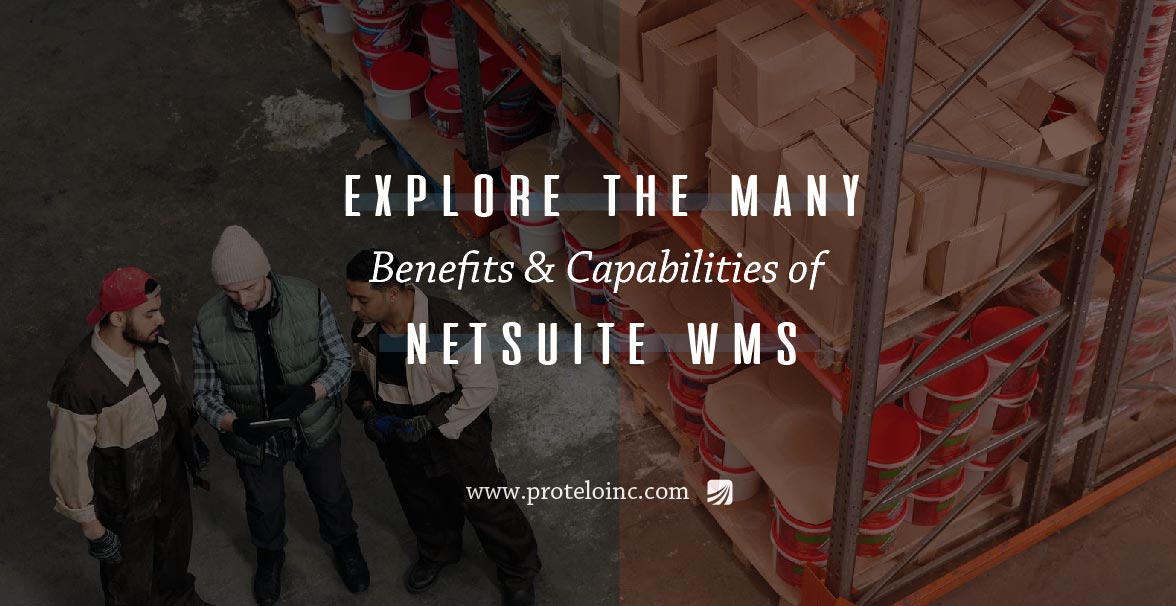 Explore New Capabilities Of WMS In NetSuite
Advanced Warehouse Management to Grow Your Operations
In a fast-paced global digital commerce era, many traditional warehouse management solutions are restricting growth, accuracy, increasing costs, and compromising quality. The warehouse is one of the most essential and often disregarded, elements of a successful supply chain. To extend customer expectations for quick, precise, quality shipping, successful businesses are changing to Warehouse Management Systems (WMS).
WHAT IS WMS? Warehouse management is the entire process of operating and managing a day-to-day warehouse. Warehouse management optimizes and integrates activities ranging from receiving orders, controlling inventory, fulfillment, shipping details, and everything in between to increase productivity.
What is Warehouse Management? Processes, Strategies, & Benefits Efficient warehouse management is essential for success as it creates fast, high-quality service that lowers costs, improves the supply chain, and strengthens the relationships between suppliers and customers. Learn why many organizations are turning to warehouse management systems for help.
Learn More:
• Download NetSuite WMS Overview
• Supply Chain Management in 2021: An Overview Guide
• Managing Unplanned Disruptions in the Supply Chain
• Why Companies Choose NetSuite ERP
• WMS Updates in NetSuite's 2021.2 Release
Having a Warehouse Management System (WMS) as part of a 2021 business strategy, effectively helps optimize warehouse operations in these 5 major ways:
Visibility over all aspects of inventory.
Expediting the receiving process with inbound logistics.
Accurate pick an pack logic through the order fulfillment process.
Automating processes with mobile scanning and equipment.
Easily assess performance, monitor progress and analyze data.
Easily manage your supply chain, inventory, and back-office with NetSuite WMS.
NetSuite WMS is a robust and scalable warehouse management solution native to the NetSuite platform. With industry-leading features such as mobile RF barcode scanning, wave planning, cartonization, kitting, and space management, NetSuite WMS increases efficiency, improves operational excellence, and lowers the cost for warehouses of any size and complexity.
Key WMS Benefits:
Lower Your Distribution Costs
Improve your margins through space savings, cycle count reduction, and lower labor costs.
Increase Customer Satisfaction.
Win big by increasing your order fill rates and fulfillment accuracy while reducing shipping errors.
Improve Operational Excellence.
Deliver on time and turn your inventory faster while reducing obsolescence and write-offs.
Calculate NetSuite WMS Pricing
"NETSUITE WMS ALLOWS US TO SCALE OUR BUSINESS AND SUPPORT INCREASED DEMAND WHILE MAINTAINING REAL-TIME INVENTORY VISIBILITY AND MEETING DEMAND PLANNING NEEDS." – JAWBONE

Key Features
NetSuite WMS offers advanced functionality that streamlines your warehouse operations and ties seamlessly into the core of NetSuite's business management platform. Key features include:
Bar Code Scanning
Wireless RF/Mobile Handhelds
Advanced Wave Management
User-Defined Putaway and Pick Strategies
System-Directed Putaway and Picking
Order, Cluster, Bulk, and Zone Picking
Dynamic Forward Pick Replenishments
Cycle Counting
Lot/Batch Number with FIFO & FEFO
Expiration and Shelf Life Tracking
Serial Number Tracking
Multiple UPC Codes
Integrated Advance Ship Notice (EDI/ASN/856)
GS1 Label and Packlist Printing
Inventory Tracking with License Plates
Kitting
Work Orders and Assemblies
Labor Productivity Reporting
Warehouse Dashboards
"NETSUITE WMS FACILITATES REAL-TIME, INFORMED DECISION-MAKING AND ENABLES US TO DELIVER OUTSTANDING EXPERIENCES TO OUR CUSTOMERS." — Dafiti
Proven Results
NetSuite WMS takes warehouse management to the next level for companies around the globe. Contact us today to discover more about how NetSuite WMS can work for your business.

5-Star NetSuite Customer Support & Customization
We can help you to implement, service and support NetSuite. Are you looking for top-notch customer service and on-demand NetSuite help? The benefit of working with Protelo is that we are small enough to care yet big enough to deliver. Let Protelo be your contact for NetSuite expertise with direct access to our experts, quick interactions on our daily livechat, join our NetSuite User Group, and partner with a team that is focused on your business success. Learn how to choose the right NetSuite Implementation team & on-going NetSuite services team for your business.
NetSuite provides other external applications created for niche business solutions with pre-built NetSuite integrations in the cloud. Check out Protelo's RingCentral Integration, RightSupply Purchase Planning and RightTax Sales and Use Tax SuiteApp.
NetSuite Services List Get An Add-on Estimate
Are you interested in learning more about NetSuite WMS module?
Want to learn more about pricing? Schedule a free consultation today.
Protelo business consultants have deep experience—an average of 15+ years each—across industries and verticals such as wholesale distribution, manufacturing, services and more. We strive to become a trusted extension of your company and invested in your success.
Contact Protelo's NetSuite Experts
Follow us on Social for NetSuite tips, tricks and ERP fun:
YouTube, LinkedIn, Twitter, Pinterest, Instagram, and Facebook