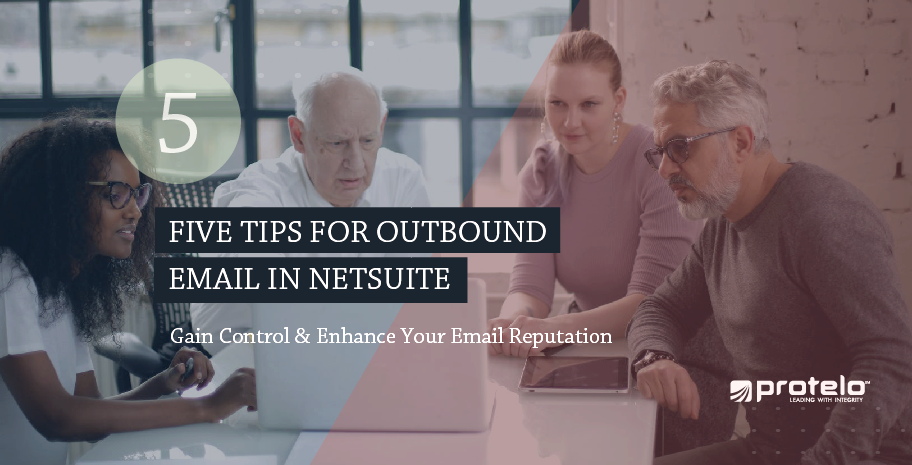 NetSuite Email Campaign Best Practices
Gain control and enhance your email reputation with NetSuite email marketing best practices.
Protect your internal team and your customers from unsolicited mail, spam campaigns, and get the most out of your internal marketing campaigns with deliverability and clarity.
With anti-spoofing technology in place, domain owners now have the control to enhance their email reputation and set standards for major ISPs and mail service providers in your network. Utilize these email best practices, tips, and industry standards to increase deliverability and reduce the incidence of your emails being reported to spam.
What are NetSuite Email Best practices?
Best practices include careful maintenance of recipients lists that have elected to receive your emails and the use of DKIM and campaign email domains. With both practices in place, this will increase your deliverability and reduce reported spam in your email messages.
5 Tips for Outbound Email in NetSuite:
1. Always send emails FROM a domain you manage: Never send emails on behalf of customers, never send emails from addresses using DNS records you can't control, and always use an email message that ensures that the return email address field is specifying your domain.
2. Make sure to manage your scripts: Routinely monitor your SuiteScript outbound email scripts. Always delete obsolete scripts or depreciated customizations.
3. Ensure Compliance with the proper DNS records set up for DKIM and DMARC policies for your company's entire infrastructure.
4. Align & Check: If your company email goes between your mailbox provider and NetSuite, ensure your mail-from passes the SPF check.
5. Keep it clean: Honor unsubscribe requests, do not forward or send an email with content from an unknown sender, and never send spam.
To help you reach your audience effectively, NetSuite provides the tools your marketing department needs to optimize your email campaigns and build your reputation. NetSuite utilizes email history to identify if your emails meet best practices with the percentage of replies, invalid email addresses, and spam complaints from recipients and ISPs.
In order to improve and optimize the overall deliverability of your campaign emails, make sure to invite recipients to opt-in, set up an email domain, set up a domain key identified mail (DKIM), and only send campaign emails to recipients that have responded to past campaigns.
What is considered spam? Spam is defined as any email that is sent to recipients that is unwanted and unsolicited, and the NetSuite application terms of service strongly prohibits the use of spam inside NetSuite. Emails that meet the specifics of a legitimate marketing email will experience a higher delivery rate and will become less likely that an ISP would regard it as spam.
How to maximize email delivery inside NetSuite?
Four ways to ensure a higher delivery rate when sending emails:
1. The email recipient has elected to receive your email campaigns.
2. The email recipient has taken an action on your past campaigns.
3. The email used is a DKIM and uses a campaign email domain.
4. You have established a positive sender repute.
How to get customers to opt in to email campaigns:
Opt-in confirmation emails and opt-in invitation emails are two different ways to send messages to customers to learn about their email preferences. These email types do not count towards your monthly allotment.
Opt-in confirmation emails allow customers to confirm their current subscription status and provide an opportunity to reaffirm their interest in your email.
Opt-in email invitations are used to provide customers with a way to set their subscription preferences in multi-language. To choose an email template for an invitation, go to setup > marketing > preferences > marketing preferences and select it from the opt-in invitation message list.
Note: Make sure to send these emails sparingly and avoid repeatedly sending subscription emails because recipients may consider them spam.
How to send Subscription Messages:
Subscription emails to a group of recipients:
Go to lists > Mass updates > Mass Updates >. Under Marketing, select the link for the type of recipient you want to send to. On the mass update, select the type of message you would like, set the criteria for the recipients you want to receive your invitations, and hit save.
Subscription emails to an individual:
Go to the recipient's record in NetSuite and click edit. Select Marketing subtab.
If you utilize the Subscription Categories feature, head to the Subscriptions subtab click on the Send Subscription Email button. If you do not utilize the Subscription categories feature, select the Send Subscription email link and NetSuite will prompt you to select a message and hit send.
How is a bounced campaign email handled?
There are many reasons why an email can bounce or return as not delivered. Hard bounces occur with an invalid email address, a blocked email, bad domain or a closed account. Soft bounces are due to a mailbox being full, disabled account, or a server being too busy but are mainly caused by temporary issues. NetSuite can automatically scan your campaigns for hard-bounced email addresses and create an up-to-date list to help with the clean-up of your system.
How to set up DKIM in NetSuite:
Domain Keys Identified Mail is an authentication that provides an encryption key that can be validated by the recipient to verify that an email was not forged.
In order to ensure your Domain keys are set up properly in NetSuite and with your domain provider, make sure to complete all of the below steps.
Domain Keys in your NetSuite Account:
1. Head to Setup > Company > Email > Email Preferences
2. Select the Domain Keys subtab.
3. Within the Domain Sector field put the first domain selector.
TIP: When naming domain selectors, the label must start with a letter, end with a letter or number, and the interior characters may only contain digits, letters, or a hyphen. Valid digits are 0-9. Naming a selector starting with a digit will result in an error message. A suggested best practice would be to include the purpose, owner, and the creation date. For example, may2020-netsuite._domainkey.example.com would meet the criteria.
4. In the Domain Name field, enter the domain name you are utilizing to send DKIM-signed emails from NetSuite.
5. Enter the Public and Private domain keys (in PEM format) used for signing in one of these ways:
– If you have not generated a domain key for this domain previously, go Generate Key Pairs to have NetSuite generate them for you.
– If you have used the same domain keys with another application, enter the domain keys manually. You need the public domain key to set up your domain hosting service.
6. After submitting the domain keys, click Generated DNS Entry for a correctly formatted DNS entry that will pop up in a window. Make sure to copy this entry and leave the browser window open.
How to activate DKIM keys inside NetSuite:
1. Head to the Email preferences page inside NetSuite. Select the Active box for every key you have set up and click Save.
2. With these two steps in place, all email messages using the subdomain and domain sent from NetSuite will have a DKIM header.
Tips to create a DNS Text record with your domain provider:
1. In another window log in to your domain provider and add a record in the following formatting: the name you entered in NetSuite and the ._domainkey suffix.
2. Enter the copied value after selecting DNS entry in your account and save the text record.
TIP: For every domain you plan on creating domain keys, create a separate text record.
DKIM Setup Verification
Want to know if your domain keys are set up properly? Before starting to use them inside of your NetSuite marketing campaigns or through email interactions, start by sending a text message to receive a report on your DKIM setup.
After entering your domain information and DNS entries with your domain provider, go to Setup > Company > Email > Email Preferences > Go to Domain Keys subtab to Verify DNS Entry and select the Doman Key you would like to verify.
How to Set up DMARC – Compliant Messaging in NetSuite
What is DMARC and how does it work? Domain-based Message Authentication, Reporting, and Conformance was developed to provide greater assurance on the identity of sender messages. DMARC is an email authentication policy and reporting protocol built around SPF and DKIM that tells the mail service what to do if neither of those authentication methods pass. DMARC is a standard utilized by major mail services and ISPs and looks at authentication from the user perspective to determine if the FROM address is in alignment with the incoming mail's SPF and DKIM. Only one of the SPF or DKIM authenticated identifier needs to match FROM the domain to be in alignment. Consider setting up the DMARC policy record for your organizations email infrastructure.
– Sender Policy Framework (SPF) is used to verify where the email came from.
– DKIM verifies the message content – is the message duplicated or has it been manipulated?
How to set up DMARC on outgoing mail inside NetSuite
1. Head to Setup >Company> Email preferences
2. In the Domain Keys column, check the DMARC Compliant Email messages box.
3. Save
How to setup DMARC on forwarded emails inside NetSuite:
1. Head to Setup > Company > Enable Features
2. In the Marketing Colum, select the Capture Email Replies box
3. Save
4. Head to Setup > Company > Email Preferences
5. In the Domain Keys column, select the forward email replies in DMARC Compliant format.
6. Save
How is an email handled in NetSuite?
NetSuite provides the ability to generate a reply-to address that is automatically added to your email message if the Capture Email Replies feature is enabled. This information is utilized and recorded by NetSuite when a contact replies to you, and then it is forwarded to your regular email address.
With the proper setup and the refinement of email best practices, your business can ensure a higher send rate of your emails and keep your team and your customers safe from spam. Our NetSuite team is here to help you get the most out of your NetSuite system! Check out more NetSuite tips, tricks, and how-to blog posts from our experts!
Other NetSuite Tips + Tricks Blogs:
1. How to Automatically Email Searches and Reports
2. Notice: Fake Invoice Emails Appear to be Coming From NetSuite
3. Choose What Notifications to Send Your Customers or Vendors
4. How to Define, Customize and Access a Saved Search
5. Learn NetSuite: Top NetSuite Training Resources For Self-Teaching
Want direct NetSuite Assistance? Have NetSuite Questions? Let's talk! Protelo's expert consultants are here for your business!

We can help you to implement, service, and support NetSuite today! Protelo is a award-winning NetSuite partner and reseller here for your business. Our United-States based team can help your company get the most out of NetSuite or clean up a project that is over budget, over project timeline, or needs expert support. We work on-demand when you need us, without long-term contract requirements or minimum costs.
Whether you are looking for a one-stop-shop for all things NetSuite, or simply need answers to your questions, our NetSuite experts are here to make your business better.
Follow us on Social for NetSuite tips, tricks, and ERP fun:
YouTube, LinkedIn, Twitter, Pinterest, Instagram, and Facebook