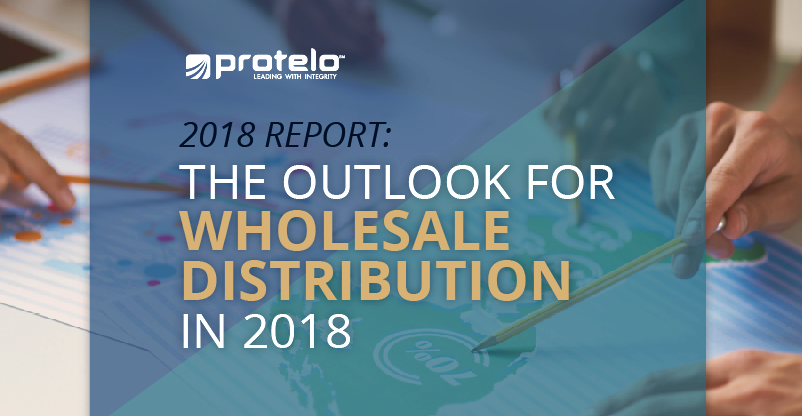 New White Paper: The Outlook for Wholesale Distribution in 2018
Brand new research from competitive intelligence firm mdm discusses the top business objectives, and challenges, that are facing modern wholesale distribution in 2018 and beyond. So, what's the verdict?
It's good news. Strong business at the tail end of 2017 brought the industry up 5 percent year-over-year, and analysts like what they are seeing for the outlook in 2018. The survey put predictions at 5-10 percent growth over last year, with 47 percent surveyed expecting some level of growth.
Protelo is offering this brand new white paper as a complimentary download. Keep the insights to grow your wholesale distribution business and learn about:
Distributors' growth predictions in 2018
Top challenges for distributors in 2018
Key Pain points for distributors
Key business objectives and growth initiatives
Plans for controlling costs
Distributors' technology plans for 2018
Industry Concerns
Concerns are increasing about internet retail giant Amazon, as more customers switch over to the retail giant from shopping at traditional stores and their digital counterparts. Encroachment of digital competitors like Amazon and others has been eating into the profitability of wholesale distributors and that trend looks like it will continue. Many wholesalers are beginning to sell directly to consumers online; customer service remains a competitive differentiator for retailers looking to continue growth in the online space.
The upbeat economy has been on an upward trend for the last several years, but some surveyed questioned how long it would last. Both concerns have retailers looking inward to see where they can improve productivity and efficiency to protect their businesses from loss of revenue or a shaky economy.
Turning to Technology
Technology is changing at a fast pace, and the traditionally slow-evolving industry of wholesale distribution is feeling the pressure to keep up. According to the report, digitization is a key priority for top wholesale distributors.
"Digitization is another key issue, as companies struggle to improve their technological capabilities not only within the organization but also up and down the supply chain as both suppliers and customers get savvier and more expectant of their distributor to keep pace."
Improving employee productivity again topped survey respondents' main means for cutting costs, with 59 percent naming this as a priority. Streamlining or automating manual processes came in at No. 2 for the seventh year in a row. Distributors know these priorities can be achieved with better technology throughout the enterprise.
Wholesale distributors that take steps to become a more connected enterprise are experiencing higher levels of returns, according to the report. Distributors are building new revenue channels and cutting costs with technology that lets the enterprises communicate with their trading partners better and increase efficiency. An enterprise resource planning system, such as NetSuite, can unify all facets of the business and provide:
Better Warehouse Management
Cost Control Visibility
Analytics and Reporting
Efficient Communications
To see the full insights about the outlook for wholesale distribution in 2018, download the white paper here.
For more business technology news, tips and more, subscribe to our blog on the right.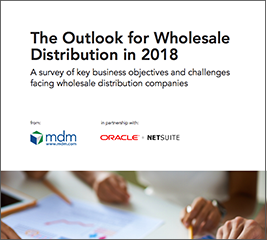 DOWNLOAD NOW