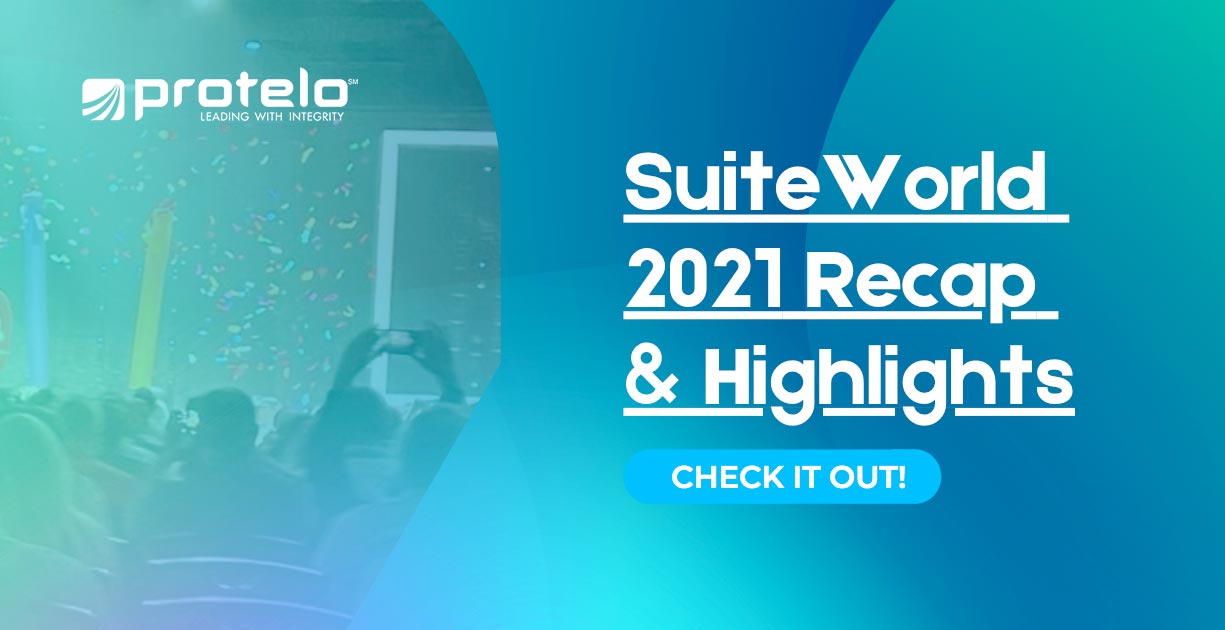 SuiteWorld 2021 Recap and Highlights
NetSuite – Helping Customers Power Their Growth
That's a wrap! NetSuite's 10th annual SuiteWorld conference was an enormous success!
SuiteWorld delivered to captivate and educate our team on new Oracle NetSuite features, trends, the latest industry news and project their forward-thinking vision for business success. "Power your growth" was the SuiteWorld theme this year, encouraging us to grow beyond expected as NetSuite grows into new areas, with more scale and focus than ever before.
Research shows that NetSuite customers grow 3x faster and stronger and are amongst the most innovative companies in the world. Over the past 5 years, NetSuite has grown by 17,000 customers and it's not by coincidence. NetSuite continues to invest in the latest innovations, enhancements, and products that modern businesses need.
Summarized from great keynotes, informative sessions, a huge expo hall, and the latest NetSuite updates, below is a small recap of this incredible event.
Business Superpowers for Growth in 2021:
Automation Drives Velocity
Agility Ensures Adaptability
The Power of Automation:
Companies that are held back by outdated, disconnected processes do not have the ability to react, adapt to change, or scale for growth because they are focused on their software, not their business. As NetSuite continues to focus on automation, NetSuite announced SuiteBanking.
Introducing SuiteBanking: NetSuite SuiteBanking is the first cloud ERP to integrate into FinTech to help businesses improve forecasting, enhance better decision making and automate financial processes for better visibility of cash flow. SuiteBanking provides the ability to improve cash flow processes through:
Accounts Payable Automation
Accounts Receivable Automation
Bank Reconciliation
International Payments
Cash Flow Optimization & Access to Working Capital
Expense & Spend Management
Check out NetSuite's SuiteBanking Press Release
The Importance of Seeing & Knowing Data
This year, Evan Goldberg SVP of Oracle NetSuite, explained how businesses are successful when they can extract the value of business data that lives in various sources to create connections and patterns. During the keynote, Goldberg featured a handful of top NetSuite customers experiencing growth amidst the complexities of the pandemic. In order to quickly adapt to the new challenges, these successful businesses were able to shift their business online, get creative with direct-to-consumer models, and utilize big data to have better visibility about top competitors and customer information.
Other featured NetSuite customers like LoveSac, Make A Wish, Modsy, and Clickstop, utilized analytics to learn more about their clients' purchase history, search terms, referrals, recommendations to alternative products, targeted social media campaigns, and combined operational and financial data to calculate unforeseen costs.
Shark Tank's Kevin O'Leary hit the stage with the important message of knowing your business data and gaining insights from it to build powerful patterns and trends. He asked questions like…"How big is the market? How fast is it growing? How many competitors are there? What is the breakeven analysis?" In his opinion, if you do not know your numbers you will not be able to survive. O'Leary also mentioned that the top producers in his portfolio are focused on omnichannel data-driven business models and are thinking outside of the box to give the customer a better buying experience. Two of his featured investments, Blueland and LovePop doubled down on their omnichannel retail platform generating a true success during the pandemic.
BlueLands Growth in 2021 LovePops Omnichannel Growth
Introducing NetSuite Analytics Data Warehouse
As business trends, inventory, and supply chain delays continue to fluctuate up to the minute, NetSuite created NetSuite Analytics Data Warehouse a new pre-built analytics platform and data warehouse to gain new insights by extending analytics inside NetSuite. This new offering leverages Oracle's machine learning-powered analytical tool Analytics Cloud and Oracle's Autonomous Data Warehouse to pull together many sources of data, CSV files, NetSuite, and other business systems to reveal patterns, and highlight opportunities for growth.
KEY BENEFITS:
Bring new data sources into the warehouse without code to enhance decision-making.
With 25 pre-built connectors to major platforms like Google and Salesforce, this new offering can also be used to manage data for storage, audit, and compliance.
Trend Insights allow businesses to organize and snapshot data from multiple systems.
View analytics data faster with prebuilt dashboards and 40 visualizations that allow you to see your data in one place with drill-down summary details.
Enhance Collaboration with the ability to auto-generate data and export it into charts and summaries for better communication and insight.
Analyze the data for yourself without relying on IT resources.
Learn More About NetSuite Analytics Data Warehouse
Agility Ensures Adaptability
Agility is the superpower every business needs to adjust to market trends, easily shift with internal changes, and a framework that prepares businesses for the ability to change quickly without disruption. Over the past year, the ability to adapt and make unique approaches to optimize inventory, gain better product visibility, and broaden reach into new channels have never been more important. To maximize the value of NetSuite's solutions, Evan Goldberg announced the launch of NetSuite ACS.
NetSuite Advanced Customer Support Playbooks is a subscription-based proactive managed service that provides a roadmap to help businesses reach their goals for growth, improve core functions, and enhance ROI. ACS helps customers solve challenges with prescriptive playbooks to manage complex supply chains and optimize cross-functional processes. Collaborate with the world's leading NetSuite experts and adopt new features from upcoming NetSuite releases. Learn more about the ACS playbooks and the strategic roadmaps available.
NetSuite ACS Datasheet 5-ways ACS Optimizes your business
Our Team at SuiteWorld:
For the 2nd year in a row, Protelo was featured as a SuiteWorld Exhibitor (booth 1026) and was proud to be listed amongst 8,000+ attendees, partners, and NetSuite product experts in person and on air. We want to send a huge shout-out to so many of you who stopped by our booth and said hi! Our team enjoyed speaking with you, learning about your business needs, complexities, and we are here to help you solve them!

What you missed at our booth:
• We're Hiring NetSuite Experts
• Why Work for Protelo
• Why Customers Choose Protelo
• NetSuite Services & Solutions Brochure
SuiteWorld Highlight Videos:

Full week SuiteWorld 2021 Highlight Video


Live from SuiteWorld 2021: SVP of Global Field Operations Jason Maynard on NetSuite TV


Live from SuiteWorld 2021: Founder & EVP Evan Goldberg on NetSuite TV

What The Experts at Protelo Can Do To Help:
Whether you're looking for NetSuite licensing, customization, best practices, implementation, optimization, integration, or simply want answers, Protelo can help.
Providing unparalleled service as a 5-Star NetSuite Solution Provider for over a decade, Protelo implements business technology solutions and services that drive efficiency and solve the challenges modern businesses face. Our global team of technology experts has assisted hundreds of small, midmarket, and enterprise companies across diverse industries and verticals achieve their business goals.
The true benefit of working with Protelo is that we are small enough to care yet big enough to deliver. Call us for direct access to the experts…the first time you dial or contact us through our online form.