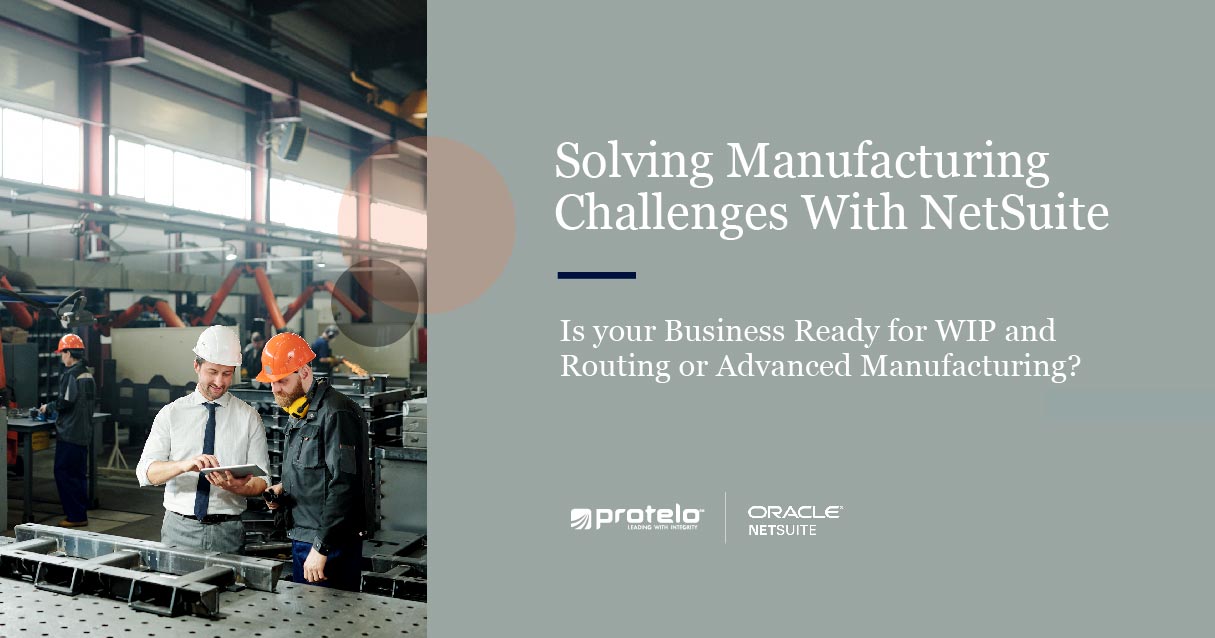 Solving Manufacturing Challenges with NetSuite
Is your Business Ready for WIP and Routing or Advanced Manufacturing?
The manufacturing industry is building back quickly after a years-long series of challenges including supply chain and labor shortages. Whether your company has plans to expand manufacturing, contract out manufacturing or keep the status quo...NetSuite can help support new product lines, advanced levels of data and reporting, and efficiency.
Learn about the differences between the functionalities of NetSuite Work Orders, NetSuite Advanced Manufacturing, and NetSuite WIP (Work in Process) and Routing.
Common Production and Manufacturing Challenges
Business agility is a top priority for manufacturers in 2023 and beyond. Without a system to efficiently manage manufacturing processes, or those running multiple systems and spreadsheets to do so—production can be time-consuming and prone to errors.
Shared spreadsheets and project charts can only go so far to track Bill of Material (BOM) components, raw materials, labor, and machines. The lack of real-time data in manufacturing can lead to challenges such as:
Difficulty communicating BOM changes

Reworks and loss of materials

Increased COGS (Costs of Goods Sold)

Decreased ability to launch new product lines or version changes

Delays in production

Quality assurance issues

Manual and duplicate work




NetSuite WIP and Routing & Advanced Manufacturing: Choosing the Right Modules
NetSuite manufacturing and production capabilities allow businesses better visibility into the shop floor and paves the way for agile decision-making and more efficient planning and production. NetSuite manufacturing modules allow businesses to:
Issue materials, enter production, and record downtime

identify quality issues as they happen

Define assembly items and create work orders with less effort

Capture and report on valuable shop floor data such as labor and goods

Configure Work in Process for multiple locations

Enable advanced production scheduling




NetSuite offers three separate production management modules that are built on one another. Manufacturers that are growing or have changing requirements can advance to the next level of the NetSuite manufacturing module easily. Here are the three options.
Work Orders & Assemblies is for companies that do light assembly or kitting (such as screwing, painting, and item grouping) but do not need to track the item in process or track labor and time in association with these activities.
WIP & Routings adds the ability to "define work centers, routings, track labor costing, infinite capacity scheduling and provides a Gantt chart with drag-and-drop functionality."
Advanced Manufacturing provides "complete control of all aspects of the manufacturing processes, including finite capacity scheduling, batch management, and manufacturing execution."
An overview of the functionality included in these modules:

Work Orders & Assemblies
WIP & Routings
Advanced Manufacturing
Work Orders
X
X
X
Assembly Builds
(Work Order-less Manufacturing
X
X
X
Backflushing
X
X
X
Work Center Management
X
X
Routing Definition & Labor Costing
X
X
WIP Tracking
X
X
Infinite Capacity Scheduling
X
X
Gantt View with Drag-and-Drop
X
X
Finite Capacity Scheduling
X
Rough Cut Capacity Planning
X
Advanced WO Mgmt & Control
X
Batch Management & Control
X
Manufacturing Execution
X
Why Protelo?
Protelo can help your business walkthrough which of these NetSuite solutions can support your organization now and for future growth. Whether you are evaluating NetSuite or evaluating implementing specific manufacturing capabilities—Contact us to get started with a NetSuite expert today. Our NetSuite team  has assisted hundreds of small, midmarket, and enterprise companies in achieving their business goals.
Popular Related Pages:
• NetSuite for Fast-Growing Manufacturers
• 6 Key Strategies to Grow Your Profits
• How Cloud ERP Gives Manufacturers a Strategic Advantage
• NetSuite Add-On Modules List & Resources