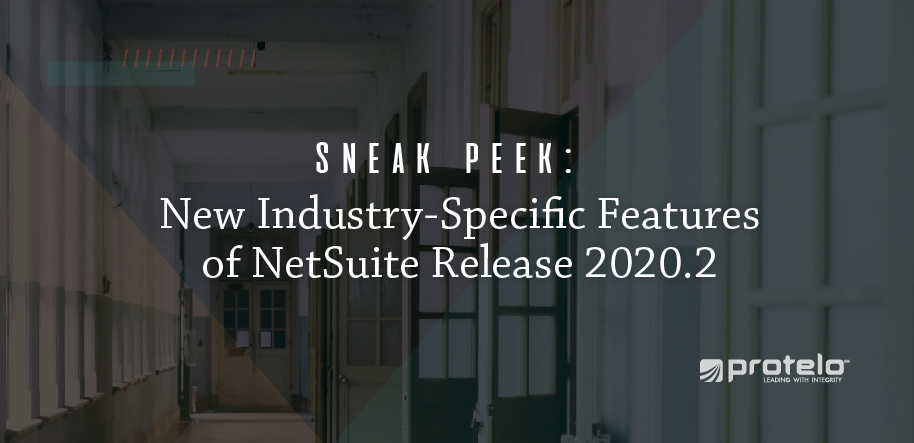 Sneak Peek: New Industry-Specific Features of NetSuite Release 2020.2
It's here! NetSuite release 2020.2 is rolling out their final release of 2020, and it's full of impressive functions and enhancements that are industry specific for wholesale distribution, non-profit, services and more. Check out the list below.
The 5-star NetSuite team at Protelo has compiled the essential new features and "need to know" information for the latest release.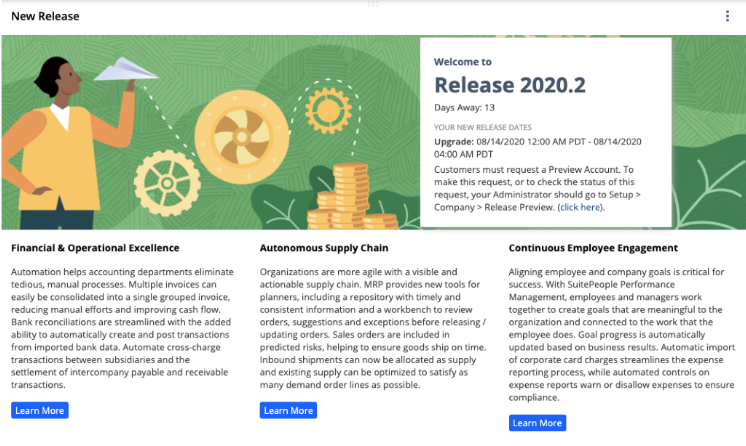 What is NetSuite's New Release Process?
If you are new to the release process, NetSuite receives updates twice a year that will upgrade your system automatically in Q1 and Q2 or Q3. NetSuite provides a release preview for your environment, resources to educate users, and a schedule that informs each user when their account is upgraded to ensure an informed, flawless transition. The start time for upgrades is based on your region (US 12am PT, APAC 9am PT, and EMEA 3pm PT).
Testing your processes, customizations and workflows in your preview account is beneficial to identify possible issues. Make sure to request access to your NetSuite release test account as soon as possible. A Solution Provider can help you test your integrations and processes in the new release environment to ensure everything will work smoothly at go-live.
Note: As you are preparing for your upgrade, integrations that connect to other applications outside of NetSuite will go offline during the upgrade process. NetSuite provides a 2-hour timeframe to complete the 2020.2 upgrade, but most have been completed in 30 minutes or less in the last release cycle. These downtimes generally occur outside of business houses. If you believe your business may be impacted by the release schedule, please contact your account manager for options.
Enhancements for Wholesale Distributors
WMS Abilities
NetSuite WMS now includes the ability to receive, transfer and pick goods inside a location without bins, including single order picking and multi-order picking at warehouses. Smaller warehouses benefit from the efficiency of hand-held picking without the overhead of managing bins.
ECommerce Purchasing
You can now quickly manage and approve new wholesaler customers to purchase from your ecommerce store. With an improved form and flexible approval workflows, the new SuiteCommerce Sign Up extension lets you easily manage the registration and approvals of buyers from your ecommerce store.
Invoice Consolidation
Invoice grouping enables the consolidation of multiple invoices into a single invoice that's delivered to the customer, and it also allows payments accepted at the group level to be applied to individual invoices. This reduces manual grouping, ensures accurate invoices and improves cash flows by decreasing days sales outstanding.
Enhancements for Manufacturers
Materials Requirements Planning
NetSuite's new material requirements planning (MRP) capabilities for supply planning (available to customers who are using NetSuite Demand Planning) has been completely re-architected, featuring a dedicated planning repository that ensures planners can make decisions based on timely and consistent information.
Predicting Risk
The capabilities of Intelligent Predicted Risks have been extended to include sales orders, providing users with greater insight into potential risks on goods not shipping on time. Purchase orders can be identified as being at risk and recommend alternate vendors based on new machine learning algorithms.
Fill Rate Optimization
Additional precision can be provided to supply allocation by allowing inbound shipments to be included into the allocation of supplies, in context with related purchase orders. Additionally, fill rate optimization allocates existing supply to satisfy as many sales order lines as possible based on the given supply.
Enhancements for Non-Profit
Balance Sheet Reporting
NetSuite 2020.2 enables nonprofits to now create statements of financial position (balance sheet reporting) on a custom segment—most commonly fund, grant, or program. Through a new, automated process, nonprofits can auto-balance accounting entries by multiple dimensions, and create balancing segments by simply checking the balancing checkbox on the custom segment record.
Labor and Expense Reporting
The NetSuite SuiteSuccess Social Impact Editions allow nonprofit organizations to allocate labor expense costs to programs, projects or grant segments. This streamlines the process of billing actual costs to the grantor on cost-reimbursable grants and helps nonprofits easily view and report on total direct costs of running a program or project.
Bank Reconciliations
Bank reconciliations are streamlined with the added ability to automatically create and post transactions directly from imported bank data, thus greatly reducing the manual time to process and match your bank data to your books in NetSuite.
Enhancements for Advertising, Media and Publishing
Built-in CMS
A prebuilt integration to Oracle Content and Experience (OCE) provides a full-featured content platform directly accessible from NetSuite for document management and collaboration. Users can upload all project-related files directly on the project in NetSuite using the system-generated OCE folders. This allows users to search, collaborate and share project documents, images, video, code and other digital assets via a single, secure project file.
Credit Card Integration
Expense report credit card integration lets users populate NetSuite expense module expense lines directly from American Express corporate credit card accounts streamlining the process, increasing user adoption and reducing data entry errors.
Expense Reporting
Automated controls and notifications on expense reports ensure compliance on company policies and contracts. This results in fewer unapproved overages and limits excess expenses.
More information about the full release can be found here!
READ THE FULL 2020.2 RELEASE NOTES HERE
Follow us on Social for NetSuite tips, tricks and ERP fun:
YouTube, LinkedIn, Twitter, Pinterest, Instagram, and Facebook