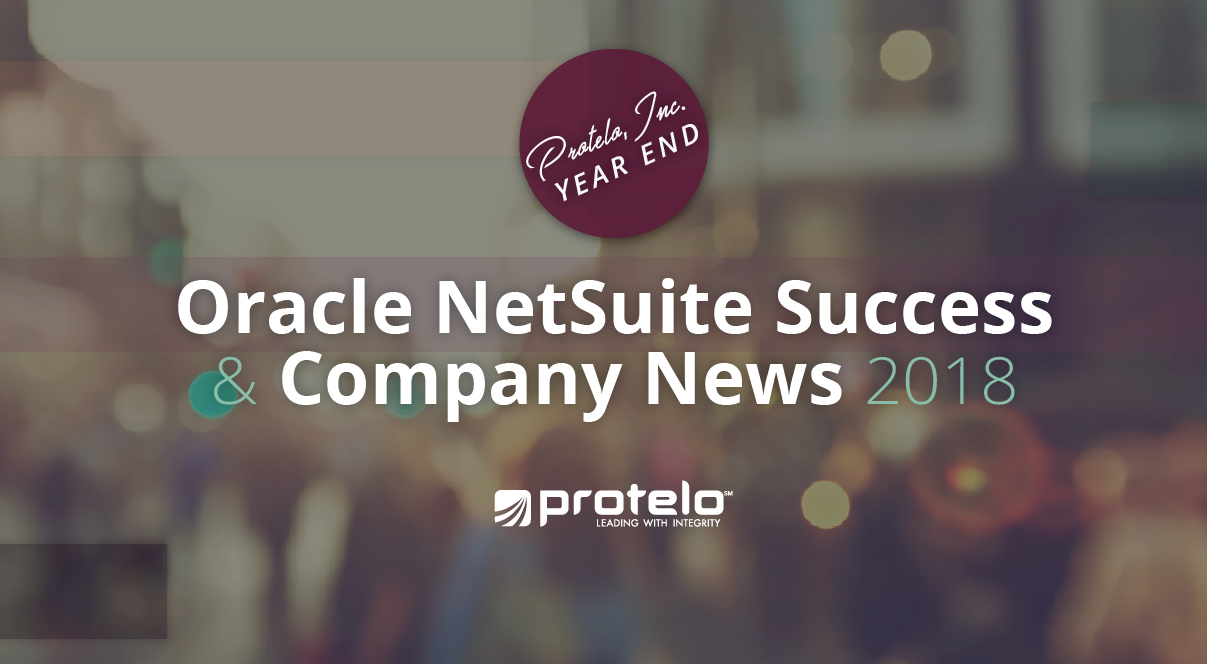 PROTELO'S YEAR IN REVIEW: 2018
Highlights, Awards & Top Trends For The Year Ahead
Protelo delivered another year of strong results in 2018, as we expanded our expert services team, built stellar NetSuite integrations, achieved new awards and certifications, grew in our partnerships, and completed our first company acquisition. We are very proud to fulfill our mission to help customers achieve what's possible through discovery and creation of simple pragmatic solutions to complex business challenges. As a part of our promise to be honest, have integrity and be a transparent company, we are excited to share our successful year with you. Check out our company 2018 highlights industry news from our partner NetSuite.

Protelo's 2018 Standout Moments
TEAM: It is important to highlight our team of incredibly smart, driven individuals. Without our people there is no way we could have achieved the results we have today. Our employees work as a driving force to achieve our vision and our goals for the future. We are thankful for the strength and commitment of our employees.
CUSTOMERS: Our customer-first philosophy reflects in everything that we do and firmly believe that when you listen to your customers, good things can happen. Approaching our 11-year mark January 1st 2019, we are very proud of our award-winning reputation, the strength of our team, and the drive we have as a company to deliver exceptional NetSuite service and expertise to our customers. Here's a look at Protelo's standout moments from 2018.
#1 Protelo Achieves Inc 5000 Ranking for the 3rd Consecutive Year
August 15th 2018 – Inc. Magazine lists Protelo As One Of America's Fastest-Growing Companies
#3882 | Fastest-Growing Company in America
92% | Three-year sales growth
#19 | Sacramento Metro Area
The Protelo team is thrilled to announce that we have been named for the third consecutive year on the 37th annual Inc.5000 list of the Fastest Private Growing Companies in America. With impressive three-year growth in both revenue and headcount, we've shown ourselves to be a true contender and emerging leader in our industry.
"We are very pleased and proud to again be recognized as one of the fastest growing companies in the country. The ongoing and continued growth and success we are experiencing is first and foremost a testament to the terrific team here at Protelo, and we also recognize and thank our customers for the trust they continue to place in us," said Protelo Founder and CEO, Christer Johansson. Read More
#2 Protelo Acquires S.D Mayer & Associates NetSuite
Technology Practice

As of August 17th, 2018, Protelo, Inc. acquired S.D. Mayer's NetSuite Solution Provider and technology consulting customers and retained their technology consulting team. Protelo is thrilled to provide the newly gained NetSuite customers with a fully staffed team of business technology experts. Protelo CEO Christer Johansson foresees a long-lasting and successful partnership with these new customers.
"With this acquisition, we gain additional NetSuite expertise making our existing team even stronger," said Christer Johansson, CEO of Protelo, Inc. "Adding to our breadth of technology experience was a natural next step in continuing to provide the highest level of business technology skill and service to our customers. We will continue delivering top quality NetSuite consulting to all new customers gained from the acquisition."

Steve Mayer, Founder of S.D. Mayer & Associates, said, "The acquisition will be a huge leap forward for our existing clients, as Protelo, Inc. is a leading NetSuite Solution Provider, specializing in ERP, CRM and eCommerce. The NetSuite clients are in great hands with Protelo, Inc." Read more
#3 Protelo Ranked Fastest Growing Company in Sacramento and Nationwide 2018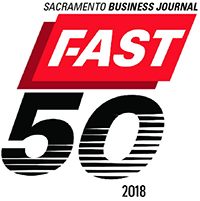 #30 | Sacramento Metro Area
Protelo was formally recognized as one of the Top 50 Fastest Growing Companies in the Sacramento area by the Sacramento Business Journal this past August. Covering 17 industries, the business journal monitors the pulse of the business community and releases an annual list of the 50 fastest-growing companies within Sacramento, El Dorado, Placer, and Yolo counties. Protelo is overjoyed to be ranked #30 amongst a list of successful companies and remain the only NetSuite Services and Solution provider of its kind on the list, a rare honor. We hope to climb the ranks even higher next year. Read more
#4 Protelo, Inc. Ranked Top IT Consulting Company In Sacramento For Second Consecutive Year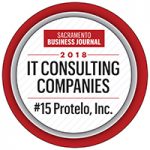 Each year, The Sacramento Business Journal compiles a list of the most successful and growing IT companies within the local and surrounding areas. As of March 30th, 2018, Protelo was thrilled to be ranked #15 on the list and #6 on the "greatest increase list" with 16.67% increase in consultants over the past year. Companies surveyed on this list have offices in Sacramento, El Dorado, Placer and Yolo counties. This list shows that Protelo Inc, has earned this prestigious designation not just once, but two years in a row, ranking #21 last year.
#5 Protelo launches NorCal/Reno/Tahoe NetSuite User Group

This year, the Protelo team launched our very first user group for local NetSuite professionals. The goal of the NorCal NetSuite User Group is to join together to network, share best practices, answer technical questions, and provide solutions as it pertains to NetSuite. With more than 500 million users on LinkedIn and 2 million+ groups, it is our goal to stand out in the crowd of NetSuite solution providers in the US.
The Protelo team would like to become the go-to educational NetSuite reference for your team with exclusive content, communication, and generate a local NorCal presence in the industry. Who should join? Current NetSuite administrators, executives, power users, and management that want to learn how to get more out of their NetSuite implementation.
Throughout the next year, Protelo will be planning interactive webinars, meet-ups and more for the NetSuite User Group. This group is intended for users of NetSuite products that are regionally located in Northern California, but we encourage all users to join. Learn more / Join our group.
#6 Company Trip To Punta Cana
This past year Protelo took the entire team to Punta Cana for our company 2018 kickoff! We had an incredible time. Protelo has created a corporate culture in which our employees can thrive both personally and professionally with a high esteem and value of people. Check out our highlight video from the trip.
#7 Launch Of Our First SuiteApp – Ring Central Integration

Protelo is proud to announce the launch of our new RingCentral for NetSuite SuiteApp, a pre-built solution for Ringout function integration. Our team noticed that the NetSuite and RingCentral API stopped working, so we decided to release our own integration to the public. For your sales force, marketing, accounts payable, accounts receivable and associates that speak with customers—the RingCentral and NetSuite integration can save valuable time by enabling dialing with one touch directly from the NetSuite contact record. Learn more
#8 CIO Review – 2018 Most Promising NetSuite Solution Provider
CIO Review recognizes Protelo, "a rising NetSuite Partner", for its highly skilled and dedicated consultant team in propelling clients towards tailored development and growth. Our team is honored to be ranked amongst the Top-20 most promising NetSuite Solution Providers in 2018.
"We understand that finding the right software is absolutely key for meeting today's needs, but we really want companies to remember that their software must be able to act as a catalyst for growth for tomorrow's needs as well," says Protelo President, Christer Johansson. CIO Review noticed that we see, and value, the big picture; and that we don't serve quick fixes just to get the job done. We offer our customers ongoing refreshes and optimizations for the performance and flexibility needed to adapt to this rapidly shifting business world. From on-demand consulting to full-on implementation and on-going support, we provide whatever you need so that you can get the most out of your NetSuite investment. Read more
#9 Iptor & Protelo Commence Value Added Reseller Partnership

As of May 3rd, 2018 Iptor Supply Chain Systems, a leader in supply chain management, planning, and logistics software, and services, announced the appointment of Protelo, Inc. as a Value-Added Reseller (VAR). Iptor and Protelo entered into this partnership to formalize a long relationship of mutual trust, expertise, and clientele. The agreement encompasses the complete Iptor solutions portfolio and enables Protelo to sell, deploy and support Iptor DC1 v10, Iptor's flagship cloud ERP solution, and to maintain and upgrade Iptor customers on earlier releases. Protelo will play an important role in strengthening customer service and satisfaction, as well as extending Iptor's reach, accelerating its ability to execute on its business strategy, onboard new customers and grow its share of the market. Read More
ORACLE + NETSUITE SUCCESS
1. GROWTH
NetSuite has seen a significant increase in revenue generation this last year with the highest customer retention rates, highest customer satisfaction rating, and signed more NetSuite customers than ever before. NetSuite is expanding and pushing for a global scale committing the large economies of Brazil, China, Germany, India, Italy, and Japan, who are all in need for an ERP suite that runs in the cloud. EVP of Oracle NetSuite, Jim McGeever stated that "NetSuite is going local to the core. Our goal is to be more German in Germany than SAP." NetSuite's goal is to provide a local experience, a local product, and support by a local team no matter what country you are from.
2. NETSUITE FEATURES
It is clear to see that NetSuite and Oracle are on a continuous upward path towards growth, expansion, and continuous improvement. With the rollout of the 18.2 release, NetSuite launched new vertical capabilities to the food and beverage industry, health and beauty, emerging retailer and released new features to SuiteCommerce and SuiteSuccess.
3. SUITESUCCESS:
SuiteSuccess has now expanded into 33 editions across 14 different industries. In the past year, 84% of the new NetSuite customers are already on the SuiteSuccess platform and a NetSuite Implementation is now 60% faster with the ability to go live in 30-45 days.
4. SUITECOMMERCE:
NetSuite launched a new version of SuiteCommerce – a spin-off of SuiteCommerce Advanced that launched 4 years ago. This new version of commerce accelerates digital growth rates by 24% in one year. As a part of NetSuite, you get pre-built themes, site management tools, plugins to extend site capabilities with an accelerated deployment of 30 to 45 days.
Our Top 10 most POPULAR blogs of 2018:
#1: Why Design Patterns are Important in Software Engineering
#2: Creating Custom Fields in NetSuite
#3: NetSuite Saved Searches: A how-to guide
#4: NetSuite How-To: Automatically Email Searches and Reports
#5: Import Online Bank Data and Auto Match Transactions in NetSuite
#6: NetSuite Global Search: Shortcuts, Tips and Tricks
#7: Top Four NetSuite Hacks, Tips and Tricks
#8: What are my NetSuite Ecommerce options?
#9: NetSuite implementation: Direct or Partner? What are my options?
What is our plan for 2019?
• Launching more SuiteApps
• User Group meetups and expanding our NetSuite Solution Provider footprint
• Sponsorships and booths at the Iptor and SuiteWorld 2019 conferences
• Creating customizations and integrations to better serve our customers
• Focus and growth on our incredible NetSuite team
• And MUCH MUCH more!
There are many exciting things to come! Stay tuned and Happy New Year!!!
Thank you for all your support, and we look forward to an incredible 2019!