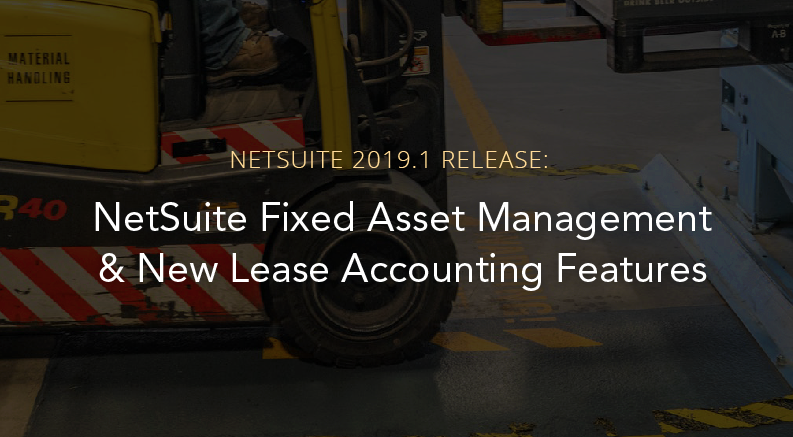 NetSuite Fixed Asset Management and New Lease Accounting Features
If Fixed Asset Management is installed in your organization's NetSuite account, there is important information to know about upcoming changes and exciting new features.
The new Lease Accounting feature will be included in the Fixed Assets Management SuiteApp in the v19.1 releasing in early 2019, in the March or April timeframe.
Why Lease Accounting?
Lease accounting standards are changing. Companies that lease assets will now have to account for each leased asset on their balance sheet to comply with the latest IRS and federal accounting standards.
There are several changes you must make in NetSuite to keep your Fixed Asset Management module working correctly, please reference the chart below from NetSuite to ensure your module will operate correctly after the NetSuite 2019.1 release. This module will be available for sandbox testing during the mandatory preview period before the release of the version, check your NetSuite dashboard for more information about when this period will occur.
What Is Changing?
1. Lease Proposal Record
Lease Proposal is a new custom transaction record introduced in the Lease Accounting feature. It lets users propose a new lease, define the terms of the lease, add lease payments, and create the lease amortization schedule.

Recommended Actions:
Enable Custom Transaction in Setup > Company > Enable Features > SuiteCloud > Custom Transaction
2. New GL Accounts for Lease Accounting
The Lease Accounting feature allows you to recognize the right-of-use asset and lease liability, and to accrue interest. To do this, users must create new GL accounts and set them to the Lease Proposal record.

Recommended Actions:
Add the GL accounts in Lists > Accounting > Accounts > New
| | |
| --- | --- |
| Account | Type |
| Right-Of-Use Asset | Fixed Asset |
| Acc. Dep. – Right-Of-Use Asset | Data 4 |
| Lease Liability | Accounts Payable / Other Current Liability |
| Interest Expense | Expense |
3. Lease Accounting related permissions
Lease Proposal, Vendors, and Lease Payments are new permissions needed to ensure you can properly use the Lease Accounting feature. These new permissions are added to the Fixed Assets Management role included in the bundle.
Add the following permissions to custom roles:
1. Navigate to Setup > Users/Roles > Manage Roles.
2. Click the Edit link next to the custom role.
3. Under the Permissions subtab, click Custom Record.
4. Add the following permissions:
| | | |
| --- | --- | --- |
| Permission | Type | Level |
| Lease Proposal | Transaction | Edit |
| Vendors | List | View |
| Lease | Custom | Full |
| Payments | Record | |
Source: NetSuite
Are you interested in setting up Fixed Asset Management or Lease accounting?
Let Protelo's experts help!
Contact us today to get started with a NetSuite Financial expert.