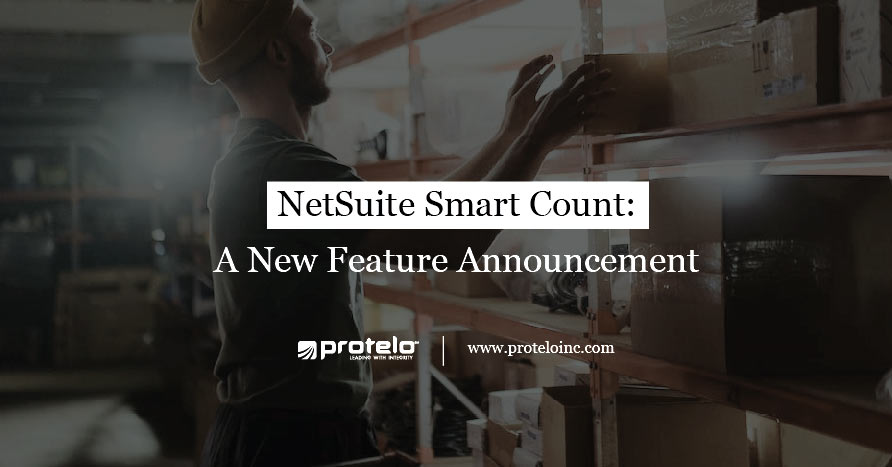 NetSuite Smart Count
Smart Count: NetSuite New Feature Announcement
Inventory counts have traditionally been a challenge for product-based businesses. Counts cannot often be performed during working hours, as inventory levels change with products coming in and out. To improve on this highly manual and time-consuming process, NetSuite has introduced exciting new functionality in the next release to streamline the inventory count process.
One of the most anticipated new features in NetSuite Release 2022.2 is Smart Count—a SuiteApp with new and enhanced functionality for product-based companies and anyone that owns the Inventory Management (formerly Advanced Inventory) module or NetSuite Warehouse Management (WMS).
How to get Smart Count
NetSuite Smart Count, a downloadable SuiteApp, is now available to all NetSuite Customers with the inventory module. Customers that purchase or have purchased the Warehouse Management Module within NetSuite will receive Smart Count with provisioning, or upon request from their account manager.



Smart Count FAQ: Features and Functionality
The Smart Count SuiteApp allows for inventory counts in real-time, during operating hours, without stopping any operations.
How it works:
When you begin counting an item, Smart Count records the on-hand value of said item.

If there are any changes to the on-hand count during counting (such as a pick or replenishment), Smart Count sends a notification to the employee doing the count.

Smart Count will then recommend appropriate actions based upon the changes.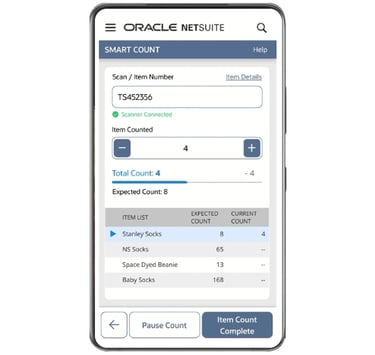 Expanded Smart Count Features (Source: Oracle Announcement)

Administrator Control:

Helps organizations manage counts without disrupting sales by enabling administrators to choose what happens if the on-hand quantity changes for an item during the count process.





Advanced Visibility:

Helps organizations automate the count process by providing lists of items that need to be counted using predefined criteria, business rules, and key drivers.





Automated Recounts:

Helps organizations minimize unnecessary replenishment by automatically triggering a count to check the accuracy of a given bin if the inventory level falls below the reorder point.





Centralized Information:

Helps organizations efficiently manage the cycle counting process by providing visibility into all the items due to be counted in a location.





Mobile Access:

Helps organizations increase count accuracy and minimize time required to complete counts by using a handheld mobile device and barcodes.
Smart Count Benefits

Smart Count can enable more to get done during the business operating hours, while minimizing the impact on daily warehouse and inventory operations. Benefits of Smart Count include:
Simplifies and automates inventory count processes

Allows for important inventory checks-and-balances during operating hours

Lessens manual processes such as recounts and inaccurate counts

Minimize interruptions within operating hours

Minimize overtime for inventory counts after-hours
Interested in the features and functionalities of Smart Count?
The NetSuite inventory and WMS experts at Protelo can help you implement and configure Smart Count Features in your instance. Contact us for a conversation today, or, request a quote for your project. Our NetSuite team  has assisted hundreds of small, mid-market and enterprise companies in achieving their business goals.