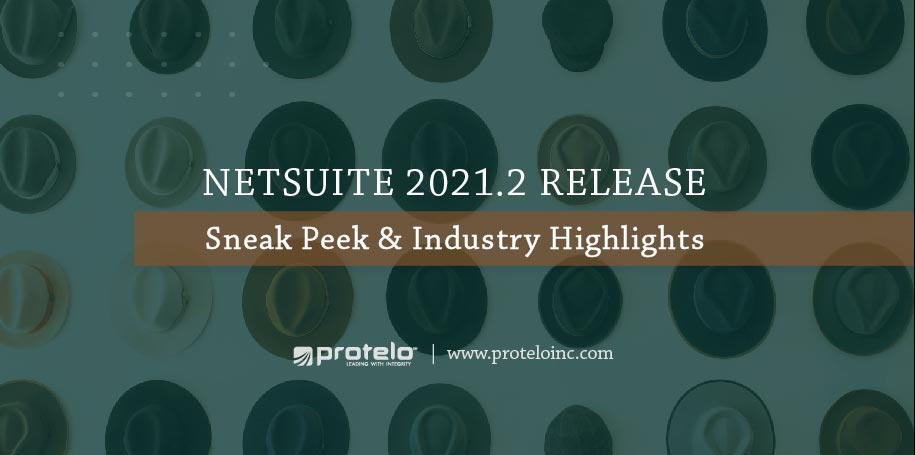 NetSuite 2021.2 Release Sneak Peek and Industry Highlights
The 5-star NetSuite team at Protelo has compiled the essential new features and "need to know" information for the latest NetSuite release.

Top Highlights of NetSuite 2021.2 Release
Finance: Payment links are now available for invoices to customers. Built-in, clients can pay online or via ACH electronic payments with automatically matched imported bank payments to open invoices. Get paid quicker, with more convenience for your customers.
Inventory and WMS: Improve fulfillment efficiency with automatic allocation of inventory to sales orders, with options based on gross profit or revenue. Lot numbers are also generated automatically, and there is a brand new quick-ship pallets feature.
HR users: automate 401(k) employer matching contributions with a new series of rules-based formulas. There are also improvements in age-based eligibility rules.
Highlights for Manufacturers
Inventory: Automatically prioritize inventory allocation to sales orders by either gross profit or revenue with a brand-new set of allocation options.
Benefits:
More accurately promise items with an "earliest date in stock" feature per location. This calculation of the "earliest available date" calculates supply chain lead times, NetSuite customized supply allocation strategies, and even sales channel allocations/reservations.
Drill down into your supply and demand: There is enhanced flexibility in the Planning Workbench. According to the NetSuite 2021.2 release notes, "Date-based views of planning results are now available in daily, weekly or monthly buckets, and a new parameter limits how many days into the past the supply planning process will look for past-due, unconsumed forecasts."
Best 2021.2 highlights for Wholesale Distributors
Automatically generate a lot number from your customized format that has been set for the item. Now available are custom lot fields for additional inventory details such as supplier lot number and manufactured date.
New WMS updates! Ship from your handheld. "NetSuite WMS and Pack Station now offers capabilities to help workers quick ship a pallet from a handheld device. It allows a pallet to be held until it's full and allows workers to pack items going to the same destination in different orders, making the entire shipment more cost effective."
New highlights for Software companies
Enhancements to subscriptions: Automatically activate, suspend or reactivate multiple subscriptions or subscription lines, with a new bulk activation feature. Users can also filter and select the products for processing, decreasing manual selection of accounts.
Improvements for Services companies
New UI! Project managers will see a more intuitive user interface for managing both tasks and entire projects in the 2021.2 release.
Users can now add project managers as an approver type for faster processing of transactions within the system when needed. Eliminate the need for the finance department to approve expenses for projects managed by an approved employee.
Enhanced Feature highlights for Developers and Admins
All NetSuite customers now have access to the entire range of query functionality included within SuiteTalk/RESTlet web services.
Now available to all users, the SuiteAnalytics Workbook API is a powerful business intelligence tool that can be leverages to build customer reporting and more. Interested in this feature? Let's talk!
More information about the full release can be found here!
READ THE FULL 2021.2 RELEASE NOTES HERE

Protelo's experts have helped hundreds of companies harness the power of NetSuite.
With decades of business-process expertise and extensive product knowledge under our belt, our consultants provide a single source of expertise to implement, customize, integrate, and refine your back-end operations.
Get NetSuite Services Today NetSuite Services List
Follow us on Social for NetSuite tips, tricks and ERP fun:
YouTube, LinkedIn, Twitter, Pinterest, Instagram, and Facebook