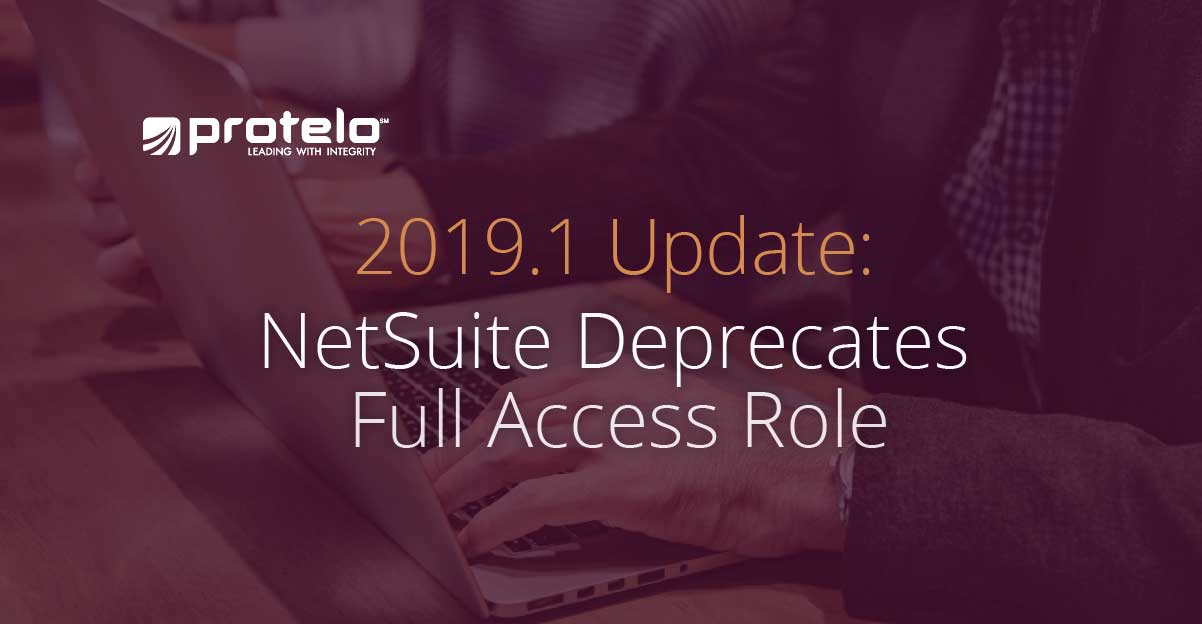 2019.1 Update: NetSuite Deprecates Full Access Role
Changes that could affect your NetSuite instance are coming in the next release.
In the new release, NetSuite 2019.1 will no longer allow users to assign the "Full Access" role inside your NetSuite account, as it will be sunsetted in a future release.
Who is affected? Users who are currently assigned to this role will not be affected and will still have their normal abilities with this change until it is removed. Users logging into the Full Access role will start seeing a notification of the upcoming change and the role will be updated to Full Access (deprecated).
Suggestions for this change
Upon your account migration to 2019.1 and before the new release of 2019.2, change the arrangement of your roles so your NetSuite users don't lose access to the functionality they need. Make sure all customizations in your account running under this role continue to work in an alternative role without failure.
Review your assigned Full Access users and determine if their current job functions require this role. If a user requires the Full Access granted by this role, develop a strategy to configure the desired access by adding global permissions or configuring a different role.
If they do not need full access, assign them to another role and encourage them to start defaulting to that new role as soon as possible.
Core Administration is here
Core Administration is a new permission launching during the 2019.1 release. The core administration permission grants access to many of the same functions that are currently available in Full Access role. NetSuite suggests that users may be able to use this new permission as an alternative.
How do I assign the Core Administration permissions?
After your account is fully upgraded to 2019.1, you have the ability to assign the Core Administrative Permissions by navigating to Setup > Company > Enable Features > Check the Core Administration Permissions checkbox > and Save.
Once this feature is authorized inside your NetSuite system the Core Administration Permissions are available in every role, restrictions can be applied as needed, and will be 2FA mandatory (learn more about NetSuite's 2019.1 Mandatory Two-Factor Authentication (2FA) process).
Expert NetSuite consultants—We can help you prepare
Our award-winning NetSuite consultants can assist your team in the implementation, configuration, customization and services of NetSuite solutions to work for your unique business processes. We provide support, administration and process optimization to ensure organizations get a return on their investment.
Whether you are looking for a one-stop-shop for all things NetSuite, or simply need answers to your questions, our NetSuite experts are here to make your business better.