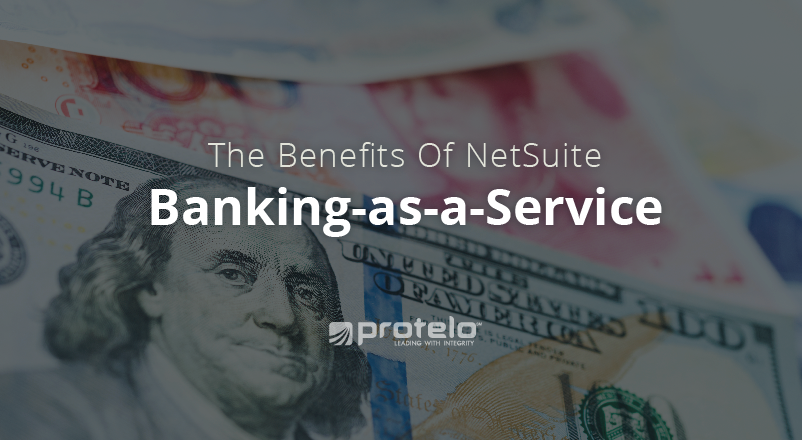 The Benefits of NetSuite Banking-as-a-Service
Enabling NetSuite customers to increase operational efficiency, drive down cost and acquire direct access to financial services.
Frustrated by the need to use disparate point solutions to run your business? NetSuite is driven by consolidating and streamlining business processes into a single system. Banking should be the same! To keep up with evolving customer and business requirements, Oracle NetSuite announced the new release of their Banking-as-a-Service Program this past September. NetSuite's modern development and integration combined with NetSuite (BaaS) allows customers to unify business banking processes just as NetSuite has done across the suite.
BaaS strengthens bank-to-customer relationships and assists banks in creating a new revenue stream with fast and secure business process automation. Very few industries are moving as rapidly as the world of banking, which makes staying on top of trends, changing expectations, and deepening the value of customer relationships even more important.
According to Forrester, "More than 50% of banks will fail to exploit open banking, starting down the slow, painful path to becoming an unintentional utility." In order to be successful in today's digital world, banks must quickly turn to open banking solutions to make banking a seamless process for their customers and stand out against the competition.
NetSuite BaaS is enabling a very important change between businesses and banks to help increase operational efficiency, improve workflows, drive down cost and create peace of mind for customers.
Banks: Leverage their assets offering cash forecasting, financial trading, instant credit lines, and loans as a part of their own services to meet customer expectations.
Customers: Receive direct access to financial services including reconciliation, lending, embedded payments as an extension of their ERP.
"Customers are demanding deeper relationships with financial institutions and as banks have struggled to meet this demand, new fintech providers have emerged to fill the gap," said Jason Maynard, senior vice president of strategy and marketing, Oracle NetSuite Global Business Unit. "NetSuite Banking-as-a-Service closes that gap and enables banks to provide their customers with a digital experience that we, as consumers, now expect. With NetSuite, banks finally have the means to offer the right services to enhance the customer experience and ultimately increase revenue."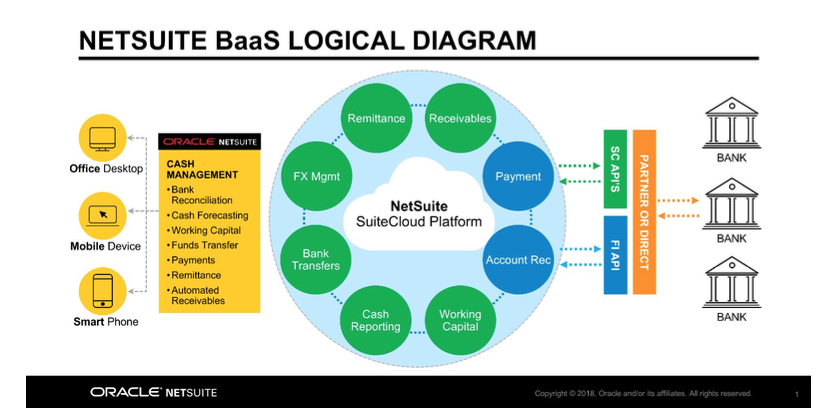 NetSuite is currently supporting BaaS functionality inside native workflows.
Business users can interact with financial institutions in eight functional areas:
1. Remittance
2. Receivables
3. Payment
4. Account Rec
5. Working Capital
6. Cash Reporting
7. Bank Transfers
8. FX Management
Open banking
Open banking is becoming absolutely necessary in the business world today enabling third-party developers to build applications and services around the financial institution. NetSuite BaaS leverages bank investments in APIs and delivers services, functionality and a secure way to transact between the bank and the NetSuite customer across the NetSuite platform.
With the BaaS system, banks can now become fintech's and NetSuite customers can benefit from banks that have the agility of a fintech, but the authenticity they have spent years building.
Streamline your business with NetSuite's modern platform combined with NetSuite BaaS to unify banking and keep up with the trends of today's competition. For more information about BaaS and how NetSuite can accelerate your business learn more or contact us today.