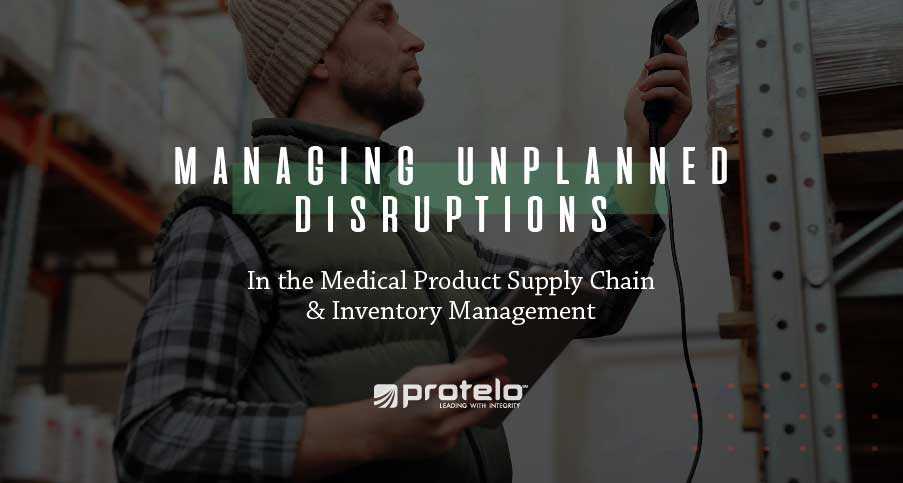 Managing Unplanned Disruptions in the Medical Product Supply Chain
There is no question that unprecedented measures are being taken to manage the global supply chain pressures.
Global powerhouse PWC has suggested that medical business supply chains must manage their inventory during the crisis to recover properly: "[Prepare] to set up a temporary inventory recovery and evaluation process, where applicable, and pursue alternative sourcing strategies."
But many companies, especially in the critical medical device and supply industries, do not have proper systems in place to manage disruptions, stockouts and drastic changes in demand for their product. In fact, many mid-size and large medical supply distributors and manufacturers are lacking visibility across the entirety of inventory and have limited visibility into how these changes may affect the bottom line.
According to a recent GEODIS supply chain survey, only 6% of the companies believed that they have achieved a complete view of their supply chain. As supply chains become more complex and expectations continue to drive innovation, it is imperative to have the proper flexibility and control across the business. Cloud ERP is influencing thousands of global business operations with the ability to access important data within a single integrated system, from anywhere, at any time.
So, what's next and how do supply distributors and manufacturers navigate the stresses of global supply chain issues? Medical product companies are rapidly adopting ERP systems to help fuel growth, plan for recovery, evaluate business structures, supply costs, and minimize any type of future business interruption with real-time data accuracy.
NETSUITE VISIBILITY AND VALUE
NetSuite ERP can provide a global, real-time view of data, reporting, BI, and enhanced visibility across the entire business. With the proper ERP system in place, accurate information helps businesses make decisions, lower costs and enhance customer service levels. NetSuite is making supply chain management seamless, efficient, and easier than ever to increase productivity.
Remaining Agile:
When changes in the business are moving this quickly, it is imperative to have a business management system that has real-time, pre-built reporting that is customizable to your business processes for full visibility into your business health. NetSuite enables customers to grow with their business, offering flexibility, scalability, streamlined processes and a 360-degree view of performance.
Conducting Business Anywhere:
Enable a buy anywhere, fulfill anywhere experience with complete inventory visibility across all locations and warehouses. Make critical business decisions and gain an in-depth, up-to-the-minute insight into key suppliers, inventory, and performance indicators. NetSuite provides a wide range of capabilities to optimize inventory availability and meet delivery expectations. NetSuite eliminates the need for separate applications for critical business functions and seamlessly connects information across the business in one unified source.

NETSUITE BENEFITS:
Global ERP designed for a future-facing business
#1 Cloud platform in the industry
A unified data model that eliminates integration hassles and disconnected point solutions.
React swiftly with changes and challenges — NetSuite replaces complexity with a single software suite that prevents errors and delays.
Remain informed about your business – Receive actionable insights on every aspect of your operation at any time.
Harnessing Technology
As companies are bracing for the worst and begin to recover from the enormous pandemic impact, it is essential for an ERP system to be a central part of a disaster recovery plan. NetSuite provides the competitive tools businesses need in a world where quality and transparency are extremely important.
Imagine the business potential when core supply chain systems are efficient and no longer being held back by obsolete systems. No matter the size of your company or the industry you are in, improved supply chain management increases the production process and can prevent issues or delays.
NetSuite is the #1 cloud ERP system on the market that can help distributors and manufacturers run more efficiently and cost-effectively. To learn more about NetSuite supply chain management for your business, contact Protelo today for a free consultation.