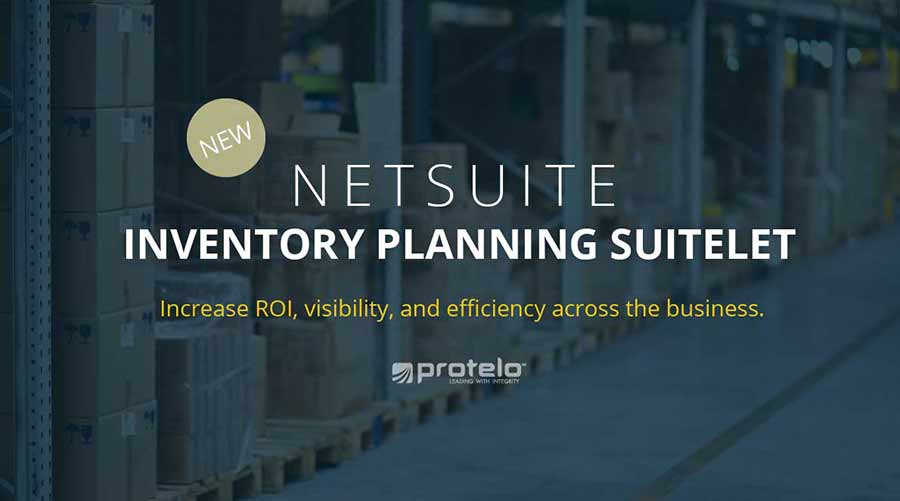 NetSuite Inventory Planning Suitelet
What is a Suitelet?
Want to build a user interface tailored to meet your exact needs in the NetSuite system? Suitelets are extensions to SuiteScript that allow for custom flash, HTML and NetSuite-based front-end development hosted within the NetSuite framework. NetSuite Suitelets play a vital role in the back-end integration to 3rd party web application extensions and give complete flexibility to the NetSuite system.
NetSuite Demand Planning:
NetSuite's demand planning module offers great insight into the items that should be ordered to meet upcoming demand and provides a built-in mechanism for identifying unapproved purchase orders with future expected delivery dates to allow the user to modify the expected date and approve the order for submission to the vendor. This is a good philosophy for organizations that create future purchase orders in advance to be approved when the time is appropriate.
This philosophy, however, does not account for a common use case.
Use case:
A company places a purchase order, or several purchase orders, with a vendor to account for future demand of a product with staggered delivery dates. This is common practice to allow for the vendor to perform their own demand planning and meet customer deliverable dates. In order for this method to work, of course, the purchase order must be approved and communicated to the vendor. By virtue of the purchase order now being in a state other than pending approval, it is longer visible to the built-in method for identifying advanced orders that can be processed.
For example, a company places an order with Vendor A for 1,000 widgets. The order consists of 10 lines for 100 widgets each with varying future delivery dates. When the supply plan for the widget is created, the system suggests ordering an additional 200 widgets to meet upcoming demand, and no outstanding purchase orders are listed to pull in for a modified requested delivery date. If a new purchase order is created in addition to the planned future purchase order, the company now runs the risk of ordering a surplus of the widget that far exceeds the demand.
This, of course, is not ideal.
Protelo's Suitelet Solution:
Protelo has developed a Suitelet to automate three main steps in the manual solution:
Create and execute a saved search for the item supply plans by location for purchase orders that need to be created.
Create and execute a saved search for all open purchase order lines marked to ship on future dates.
Compare the items and purchase order date from the item supply plans to determine if any of the purchase order lines can be rescheduled for earlier delivery.
The interactive return allows the user to navigate to the item and the open purchase order interactively from the result set.

Click screenshot for a larger view.
Interested in Protelo's Inventory Planning Suitelet for NetSuite?
Enhancing NetSuite Inventory Planning provides better ROI, visibility, and efficiency across the business. With end-user training available from Protelo, your team can get started with better demand planning right away.
Contact the Protelo team today!
Suitelet built by Tom Armbruster, Protelo Inc.
NetSuite 5 Star partner
NetSuite top partner