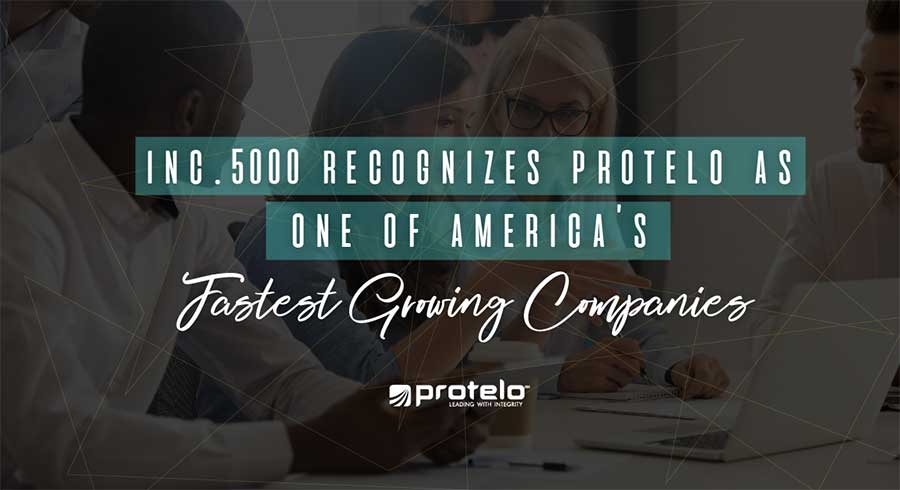 Protelo Achieves Inc. 5000 Ranking for 2nd Consecutive Year
Inc. Magazine Recognizes Protelo As One Of America's Fastest-Growing Companies
#16 | Sacramento Metro Area
#3171| Fastest-Growing Company in America
103% | Three-year sales growth
Protelo is thrilled to announce that we have been named for the second consecutive year on the 36th annual Inc.5000. With impressive three-year growth in both revenue and headcount, we've shown ourselves to be a true contender and emerging leader in our industry.
"We are very pleased and proud to again be recognized as one of the fastest-growing companies in the country. The ongoing and continued growth and success we are experiencing is first and foremost a testament to the terrific team here at Protelo, and we also recognize and thank our customers for the trust they continue to place in us," said Protelo Founder and CEO, Christer Johansson.
"The trusting relationships we have built with each other, with our customers, and with our partners, is the foundation for this achievement. We look forward to further growth and expansion of our NetSuite and Iptor customer community by continuing to provide exceptional service – our customers particularly enjoy having direct access to our experts through the "One Call Is All" experience we strive to attain."
The Inc. 5000 list is determined by a percentage of the overall revenue growth over three years for privately owned U.S. companies. Other factors taken into consideration are industry, location, revenue and number of employees.
In a letter offering congratulations, President and Editor in Chief of Inc. Media Eric Schurenberg said, "This is your 2nd time on the Inc. 5000, which is a truly extraordinary accomplishment. Of the tens of thousands of companies that have applied to the Inc. 5000 over the years, only a fraction have made the list more than once."

About Protelo:
Experienced Business and Technology Consultants
Protelo is an award-winning software and business consultancy firm that provides extensive services to ensure clients get the most out of their software. We are a one-stop shop assisting in the evaluation, implementation, configuration, customization and services of NetSuite solutions and Iptor software. We provide support, administration and process optimization to ensure organizations get a return on their investment.
Meet The Team! Our experience and passion for all things IT-related is unmatched. As an organization, we aim to provide strong, dependable leadership that customers can trust and believe in. Feel free to contact us, so we can figure out together how to better streamline your growing business operations. Net Promoter Score of 85