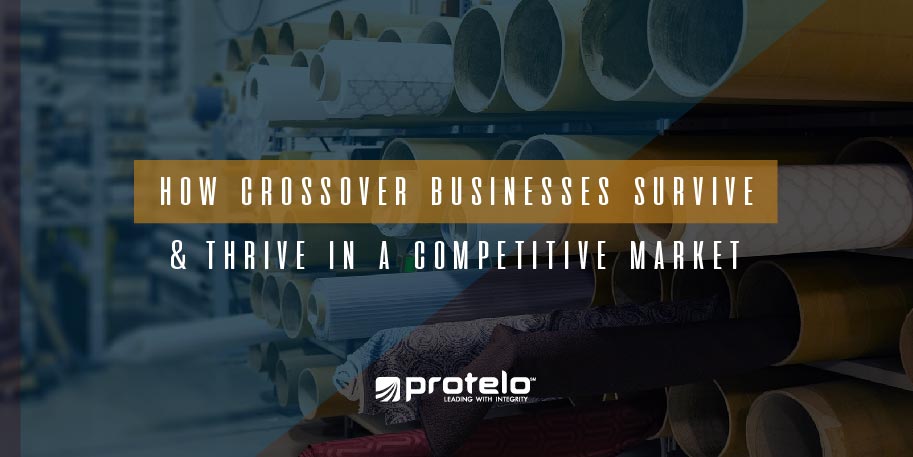 How crossover businesses survive and thrive in a competitive market.
Combination Manufacturer, Wholesaler, and Retailer
For many years, the blending of manufacturers, distributors, and retailers have continued to gain momentum. With the adoption of ecommerce and omnichannel business models, businesses now have the freedom to cross over the traditional boundaries of industry lines.
Manufacturers are selling directly to customers through the web, retailers are managing outsourced manufacturing, and wholesalers are offering their own product lines. To keep up with the trend, businesses now have to acquire multidimensional capabilities driving the need for new expertise and processes.
In this blog, we will analyze what happens when a company crosses over to become a combination manufacturer, wholesaler, and retailer and how it affects all areas of business requirements, services, revenue, and partnerships.

Crossing Over Traditional Boundaries
Crossover businesses and their employees require crossover systems that take on multiple levels of functionality. It drives the need for new kinds of expertise, processes, and systems creating a one-stop-shop for owning, operating, and servicing a business. Companies are discovering the ability to take full control of their business, maintain quality, and drive significant recurring revenue. To simultaneously manage manufacturing, distribution and retail operations all in one requires complex omnichannel capabilities.
Most ERP companies offer one of these types of businesses that are separate and unintegrated for each type of business. When a business tries to use separate systems to run each type of business, it becomes difficult for them to understand, keep operations in sync, and it becomes impossible to run a business with any kind of optimization.
System-to-System integration is one solution that bridges different parts of the business together. Unfortunately, this approach is expensive, creates lag time, results in data loss, and continuously needs to be maintained or the integrations start falling apart due to a lack of connectivity. Trying to run a crossover company on three different ERP systems (wholesale, manufacturing, retail) creates major problems and inefficiencies. Not to mention the challenges of syncing master data, transactional data, and consolidating spend.
WHAT IS ERP AND HOW CAN IT IMPROVE BUSINESS OPERATIONS?

Outsourcing Multi-Partner Relationships
Crossover businesses don't always do everything on their own. Most businesses rely on outsourcing to manage manufacturing, packaging, logistics, service and other key functions. It is important that the system supports outsourced relationships with partner access to key functions to enable them to become an extension to the enterprise.
The Importance of Quality Service
Service is the number one source of differentiation, profit, and is becoming increasingly important across the business. Companies that offer a wide range of services require a quality system with functionality as a part of its core ERP. It is imperative that services are integrated with development, marketing, logistics, and the rest of the business. A huge key to success is open communication from the beginning of a transaction and interaction to the end. Notifications of shipments before delivery, white glove services to confirm an appointment, and survey follow-ups allow for improvement and are imperative to stand out from the competition.
The Evolution Revenue Models
As a company becomes more diverse with its mix of services, products, payment methods, and offerings, it requires a more flexible financial system to support invoicing and revenue recognition across everything the company bills for. Customers want a single invoice where they can dive deeper into their bill, understand what they owe, and a single way to pay everything once. NetSuite offers a good example of this within its unified billing and revenue recognition.
Crossover businesses need integration and flexibility. Most of the time, manufacturers, distributors, and retailers start off with an ecommerce operation that is separate from their bulk shipping operation holding radically different operational requirements. Many companies have started to save money combing bulk and ecommerce fulfillment operations enabling them to manage labor, space, and inventory. This practice requires a sophisticated system that integrates demands, inventory, and operations across the business.
Synergy Across All Channels
Integration is necessary between ecommerce, the store, warehouse, inventory, and the back-end fulfillment in order to operate effectively. When all areas of the business are all on the same system, integration occurs automatically and is critical for growth. Without an integrated system, businesses are apt to face errors due to a lack of accuracy, efficiency, and unproductive activity.
To survive in today's world, no matter your company size, businesses need a system and operational capabilities similar to their competition. Companies want to be successful. Business systems should have the ability to grow, scale, and expand as your business grows with a full breadth of capabilities.

RELATED NETSUITE PAGES
NetSuite Is Changing Business Forever
2022 trends are driving businesses to crossover into manufacturing, distribution, and retail and blurring the lines between industries. Boundaries will soon disappear, and more businesses will span all three, enabling limitless potential and growth. Make sure your company is prepared for the future.
NetSuite is the #1 cloud ERP system on the market that helps distributors and manufacturers run more efficiently and cost-effectively. To learn more about NetSuite for your business, contact Protelo today for a free consultation.
Get A NetSuite Price Quote Today

Protelo and NetSuite Partnership
Providing unparalleled service as a top-tier NetSuite Solutions Provider, Protelo implements business technology solutions and services that drive efficiency and solve the challenges modern businesses face. The Protelo team of technology experts have assisted hundreds of small, midmarket and enterprise companies across diverse industries and verticals in achieving their business goals.
Through tailored business software development, implementation, services and management, we have helped our clients streamline business processes and the flow of critical information. From the planning stages to managed services, Protelo is an end-to-end provider of business software expertise.

Follow us on Social for NetSuite tips, tricks and ERP fun:
YouTube, LinkedIn, Twitter, Pinterest, Instagram, and Facebook