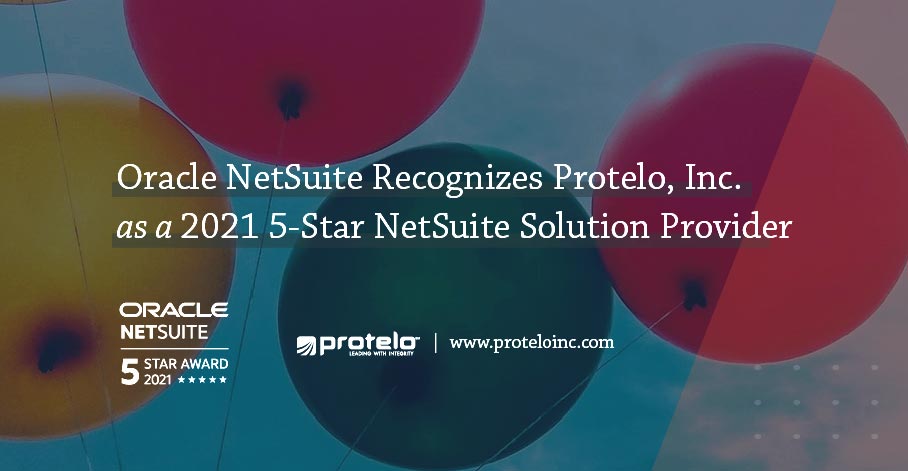 NetSuite Recognizes Protelo as a 5-Star NetSuite Solution Provider
Folsom, Calif., March 2021 — Protelo Inc., a top Oracle NetSuite Partner, solidifies position as a 5-Star NetSuite Solution Provider for the second year in a row. The NetSuite 5-star Award is an exclusive designation only awarded to several top Solution Providers in the global partner program.
For over a decade, Protelo has helped hundreds of small, midmarket, and enterprise companies increase efficiency and achieve their business goals with NetSuite. In 2020, Protelo was also named the Oracle NetSuite's 2020 Growth Solution Partner of the Year and has achieved recognition through SuiteApp development and top-notch NetSuite services for 200+ NetSuite customers.
Protelo continues to expand and grow in NetSuite expertise across industries and verticals in wholesale distribution, manufacturing, services, finance, bioscience, staffing, food and beverage, energy and solar, and more. Learn why customers are choosing to work with Protelo to purchase NetSuite, customize NetSuite, and service NetSuite for their business.
"Receiving the 5-Star Solution Provider recognition from Oracle NetSuite for the second-year running is a tremendous honor, as it underscores our team's dedication to our NetSuite customers, and the exceptional value we continue to deliver to our clients," said Protelo COO Tom Victor. "We look forward to continue helping our customers grow, innovate and thrive with NetSuite through 2021 and beyond."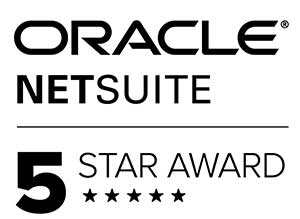 "On receiving the 5-Star NetSuite Solution Provider award again, I first want to recognize our team members at Protelo, who made this achievement possible. I would also like to recognize our customers with whom we continue to build trusting and successful partnerships," said Christer Johansson, CEO of Protelo. Here I am truly thankful for the opportunity to work together with the Protelo team and our clients to find simple solutions to complex problems, helping our customers meet their objectives.
What is a NetSuite Partner? This program is a worldwide partner ecosystem for reselling Oracle NetSuite products, solutions, customizations, and services. Protelo's team can help implement, service, and support NetSuite. The benefit of working with Protelo is that they are small enough to care yet big enough to deliver. Meet the team.
Craig West, NetSuite VP of Channel Sales says: "A five-Star award is a testament to NetSuite's best-in-class partner program and the commitment that we put forth to support and enable the success of our partners who have adopted the cloud strategy," continues West. "In addition to the benefits our award-winning Solution Provider program provides partners, NetSuite's product portfolio offers the world's leading cloud-based business management solution, making for an unmatched partnering opportunity."
If you are looking for top-rated customer service and on-demand NetSuite help, Protelo can help. Protelo differentiators include direct access to their expert NetSuite consulting team, a fast-responding LiveChat for information, an interactive NetSuite User Group, and a team that is fully focused on our client's business success.
About Protelo, Inc.
Protelo, Inc. (www.proteloinc.com) is a full-service NetSuite Solution Partner and reseller headquartered in Folsom, California, with consultants across the United States. From stellar customer service and talented NetSuite employees, Protelo has what it takes to earn your business and provide the top-quality NetSuite service you need for success in 2021 and beyond. For more information on our Services or a customized NetSuite quote, contact our team today — obligation-free! Protelo's core values are the transparency, open communication, and accountability we provide to each customer.