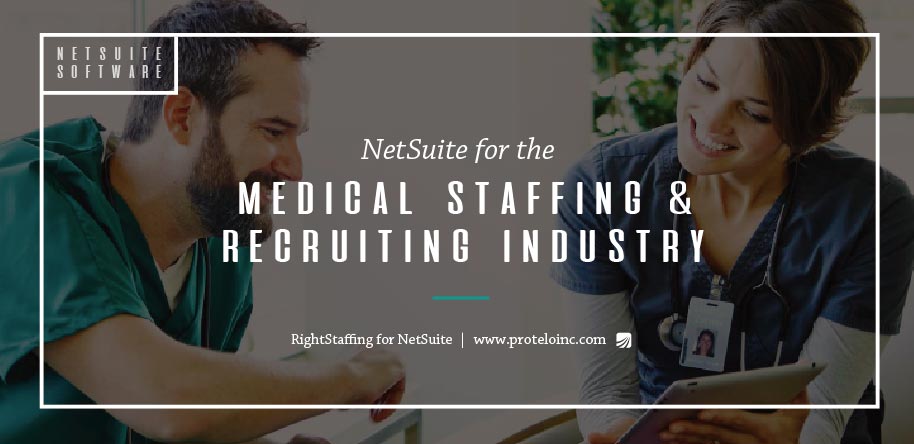 NetSuite for the Medical Staffing & Recruiting Industry
As today's business priorities are rapidly changing and increasing with the adoption of virtual recruiting, it is essential for leaders to evaluate different methods of hiring, recruiting, and overseeing their diverse workforces.
In exchange, top staffing agencies need to take action to adapt quickly, grow in their knowledge, and prove their value to the organization. As stated in Grandview Research, the global healthcare staffing market size is expected to reach USD 48.6 billion by 2027 with an annual growth rate of 5.4%.
The medical staffing industry continues to be restrained from its digital transformation goals as it encounters the technological barriers of disconnected and outdated software systems. Medical staffing services are in high demand and many entities are looking to them to fill a large variety of workforce requirements quickly. In today's fast-paced world, it is required that medical staffing companies remain agile to make quick decisions, in real-time, on a united system for staffing and timekeeping.
Discover the latest medical staffing trends, critical challenges, and how NetSuite's industry-specific cloud ERP solution RightStaffing can lower costs and automate the entire operation.
Major Medical Staffing and Recruiting trends in 2023
1.) Investing in effective virtual technology: A recent Gartner survey outlines that 86% of organizations incorporated virtual interviews and practices amid the pandemic. Virtual practices are becoming a new way of life to connect with job seekers and employers throughout the country.
2.) Hiring a diverse workforce: Diversity and inclusion in the workplace has never been more important. Diversity creates company retention, provides access to a larger range of talent across every ethnicity, and enforces a safe environment for equal opportunities and challenges in the healthcare sector.
3.) Expanding the range of practice for medical professionals: Due to the covid-19 strain for healthcare professionals and the temporary adjustments for looser practice restrictions/licenses, healthcare professionals will have access to a wider variety of practice options in 2023.
4.) Staffing a multi-generational workforce: 74% of hiring professionals say that the biggest trend shaping recruitment is the rise of the multi-generational workforce. People create a company's value! In today's culture, it is essential to balance a wide range of abilities, experiences, educational levels, and standpoints within the workforce. Successful companies are hiring employees spanning all generations from high school, college, into retirement and everything in between.
5.) Enhancing benefit packages and offerings: Employee perks and benefits are major factors that help candidates decide to work for a company. Covid-19 has compelled both and employers and job seekers to think about what matters most in their employee benefits both remotely and virtually. Even though employee benefits may look different in 2023 with working from home, the goal is to make employees happy and provide them the tools they need to do their personal best.
Finding a Solution to Fill Job Vacancies
As health care organizations continue to grow in the demand for travel nurses, doctors, and temporary or short-term staffing needs, organizations look to medical staffing companies to fill positions quickly. By the year 2032, the Association of American Medical Colleges is projecting to have a shortfall of over 122,000 physicians and it will be imperative to utilize outside staffing expertise.
Medical staffing agencies need to be up to date with state-specific laws, regulations, overtime, timekeeping and have an overall view of their workforce as its widely spread across the country. This is extremely difficult without the proper cloud ERP solution in place. As software solutions like Deltek, QuickBooks and BambooHR become outdated, disconnected, and claim to benefit staffing agencies from automation, businesses quickly find that it becomes overwhelming to juggle.

RightStaffing + NetSuite: The Medical Staffing Solution
What is RightStaffing? Working alongside companies in the medical staffing industry, Protelo's award-winning NetSuite team of SuiteCloud Developers has created a custom solution built for NetSuite. Developed on the top of NetSuite SuitePeople HR, RightStaffing was designed to keep track of diverse workforces, manage different locations and oversee staff in multi-state entities.
RightStaffing Benefits:
Adhere to labor regulations
Strengthen operational efficiencies
Enhance accounts receivable / cash velocity
Improve timekeeping management
360-degree, real-time view of the entire business
Discrepancy identification and resolution
Effective triggers for revenue leakage
Enhanced visibility of the entire business
Helps to recoup money that would have been lost
RightStaffing helps bring large staffing firms with 10-1,000 employees into modern cloud technology and unifies the business on a single platform from finance, human resources, and more. This new solution solves time clocking discrepancy issues quickly by ensuring that time is entered correctly. If there is an issue, RightStaffing can automatically generate a case that identifies the issue before the invoice goes to the client.
Keep track of employees' various time types with a trusted vendor management system that ensures correct data is being entered daily. RightStaffing saves time, cuts costs, and eliminates manual processes as it addresses payroll handled by an external processor and accumulates time entries in a single exportable file for a payroll vendor.
Today's medical staffing firms need an innovative platform to run a diverse team and expand in their workforce quickly.
Maintaining multiple systems across the business can become extremely complex. Software upgrades and customizations often turn into expensive, time-consuming projects that compel businesses to run on outdated versions of their business software for longer than they should. Instead of bolting on another "solution" or creating more complexity to an ineffectual system, consider a change.
LEARN MORE ABOUT RIGHTSTAFFING TODAY
Why NetSuite?
NetSuite is #1 Cloud ERP for accounting, inventory management, human resources and customer relationship management, financials, ecommerce, and the solution to more than 31,000 customers. Fast-growing companies of all sizes and a wide range of industries are rapidly adopting cloud ERP systems to help fuel growth. ERP gives a global, real-time view of data, reporting, BI, and top-notch visibility across the business. With an ERP system in place, accurate information helps businesses to make informed decisions, lower costs and enhance customer service.

Why work with an award-winning Partner to learn more about NetSuite?
Learn what sets Protelo's NetSuite team apart! Take advantage of our flexible service offerings, and benefit from an in-depth knowledge of business applications that can ensure you get the solution, licenses, services, the best pricing, and support that's right for you. For more information about NetSuite, a Free Product Tour, or NetSuite custom pricing, contact Protelo today! Our highly skilled NetSuite team at Protelo understands your business challenges and the solutions you need to succeed.
Follow us on Social for NetSuite tips, tricks and ERP fun:
YouTube, LinkedIn, Twitter, Pinterest, Instagram, and Facebook