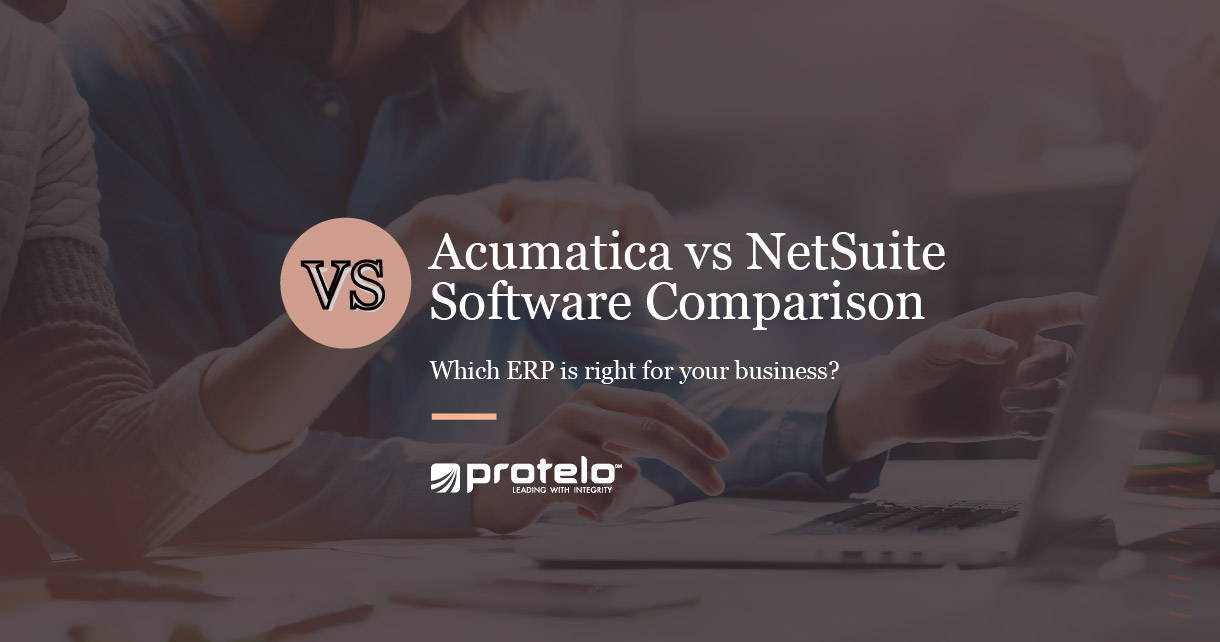 NetSuite vs Acumatica – Cloud ERP Buyers Guide
The Ultimate NetSuite vs Acumatica Comparison
According to a recent Gartner report, 70% of all new midsize core financial management application projects will be public cloud implementations by 2024. As organizations continue to make the shift to the cloud, and the competition continues to rise in a fast-growing and evolving digital environment, it has never been more important for businesses to make informed decisions.
Investing in cloud ERP is one of the most essential and substantial decisions a business can make for future success. But how do you know which software solution is right for your business? Find the answers you've been looking for as we compare Acumatica vs NetSuite, two of the top ERP vendors that claim they are built for modern businesses with advanced functionality.
What is NetSuite:
NetSuite was established in 1998 providing software solutions to manage the entire business through operations, finances, and customer relations. NetSuite is customized for businesses of all sizes (small, medium, and large) with modules for ERP, CRM, PSA, and e-commerce. Acquired by Oracle in 2016, NetSuite continues to push its competitive position in the cloud with technical advancements, capabilities, and bi-annual software version updates to stay ahead of the cloud market.
What is Acumatica:
Acumatica was founded in 2008 providing cloud and web-based ERP software for small and medium-size businesses. Acumatica can be utilized on-premise, in the cloud or in a data center. As an ERP solution, Acumatica has over 6400 customers in 30 countries globally, supports 101 countries in English and 12-15 languages through partners.
NetSuite Cloud ERP Vs Acumatica Cloud
1. NetSuite leads the market in true cloud implementations.
NetSuite demonstrates the true definition of the cloud with every customer running on the same version, the same enhancements and features and carries their customizations forward into NetSuite's multi-tenant cloud.
Acumatica claims that the definition of a 'true cloud' is the ability to access business information through the internet browser and without additional software licensing or apps. Acumatica is an on-premise software with the capabilities of being hosted in the cloud.
2. NetSuite is an advanced and integrated financial management system.
Acumatica is reliant on batch processing that unavoidably reduces accuracy, productivity, and real-time visibility in Key Performance Indicators, reports and its dashboards. Acumatica's business information is generated from point-in-time views, not real-time.
3. NetSuite provides Industry-specific Leading Practices from day one.
With 100+ pre-defined and personalized process flows, NetSuite SuiteSuccess offers industry-specific best practices and that are architected and personalized on day one to benefit your business.
Acumatica does not have an equivalent to SuiteSuccess. Their implementation process starts fresh with every new implementation, without leading practices or pre-configured instances.
4. NetSuite is the #1 software for business growth.
Acumatica remains unproven at supporting massive growth, complexity and promotes a complicated transactional-based pricing model that penalizes growth and is fraught with hidden costs. NetSuite's ability to scale remains a top choice for growing businesses. With proven results and user-based flat-fee pricing, NetSuite continues to deliver the visibility and transparency businesses need to reduce costs and increase revenue with growth.
Trending Acumatica Comparison Guide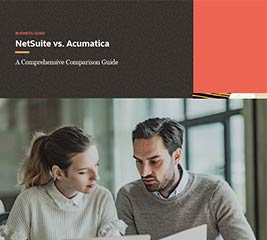 Learn the major differences between Acumatica and NetSuite for your business in 2023.
6 Tips to help your business select the right ERP system
1. Perform an analysis to determine your business strengths, requirements, and challenges to define your business capabilities and needs.


2. Carefully evaluate potential software solutions that align with your current infrastructure and integrate with the systems in place to determine a realistic technology fit.


3. Research the software that your direct competitors are using to stay ahead of the industry. Make sure to ask your potential software vendor for customer references within your industry.


4. Make sure to select an ERP software that is easily adaptable to change and flexible for future growth. Ensure that the vendor is pushing technology toward the future


5. Determine a budget plan and select the system that is the best suited for your business. Finding software that immediately improves costs, increases visibility, and enhances the efficiency of your business far outweighs the cost.


6.

Select the right implementation partner

for support processes, best practices, pricing, buying options, training, and more. Finding a seasoned team with direct access to experts is crucial to implementation success.


Implementation Mistakes to Avoid
NetSuite Vs Other ERPs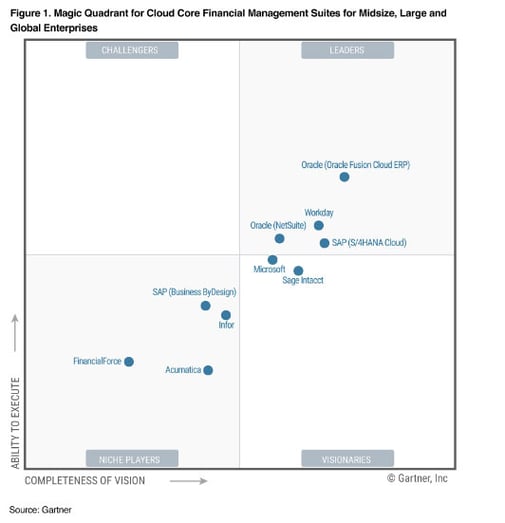 Learn more about Gartner's Magic Quadrant and the reasons why Acumatica dropped lower on the list.
Why NetSuite:
• NetSuite is ranked as a top leader amongst a large market of competing software solutions.
• NetSuite is the ONLY leader that serves businesses of all sizes across all regions.
• NetSuite has more customers using cloud financials than any other solution in the quadrant.
• NetSuite is extremely scalable and easily deployed with industry-leading practices.
• NetSuite has dedicated partners and service teams for support.
• User-based pricing keeps costs predictable through business change.
A recent IDC Marketscape study named NetSuite the worldwide leader in Saas and Cloud-Enabled Mid-market ERP. As global adoption of the cloud is accelerating, NetSuite continues its success in delivering the best cloud ERP/financials suites to businesses around the world enabling them to lower IT costs significantly while simultaneously increasing productivity.

NEXT READ THIS:
• Why Companies Choose NetSuite
• Guide for a Successful ERP Implementation
• NetSuite vs Acumatica Comparison Guide
• Acumatica vs NetSuite
• NetSuite vs Legacy On-Premise ERP

Transform your business with NetSuite ERP.
Have additional questions about NetSuite vs Acumatica? Our team is here to provide the information you need. On the other hand, NetSuite has achieved many awards for being the leader in ERP, helping some of the most innovative, fast-growing companies in the business world today! NetSuite continues to improve and strengthen its software with every update and is the #1 Cloud ERP business management suite on the market. NetSuite is 10 times larger than the next largest competitor in the ERP market.
Is your business considering NetSuite software in 2023?
Fast-growing companies of all sizes and industries are rapidly adopting NetSuite to help fuel growth with real-time visibility across the business, lowered costs, better decision-making, and an enhanced customer service level. If you are looking for a one-stop-shop for NetSuite expertise, our award-winning NetSuite experts are here for your business from software evaluation, licensing, customizations, implementations, and services.
Contact Protelo today for:
• A customized demo from an Oracle NetSuite expert at Protelo.
• A personalized 14-day trial of NetSuite #ERP, if necessary.
• NetSuite pricing & a full project quote for your business (obligation-free).